WorldSkills London 2011
London, 05-08/10/2011
---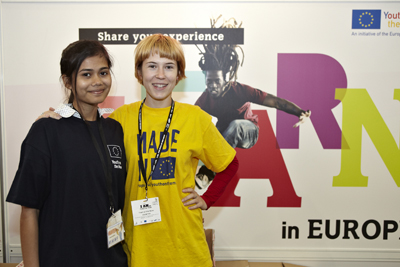 Location
Place: ExCeL London
Address: Royal Victoria Dock, 1 Western Gateway, London E16 1XL
City: London
Country: United Kingdom
Underground stop: DRL line : Custom House for ExCeL
---
Description
WorldSkills is the world's largest skills competition, taking place every 2 years with 150,000 expected visitors and 1,000 competitors from 54 countries competing in 46 skills areas such as electronics, plumbing, creative arts or fashion.
WorldSkills 2011 took place in London and Youth on the Move was there with a programme composed of presentations of projects, personal experiences, debates and entertainment.
During the 4-day event, Youth on the Move representatives spoke to thousands of young people, their teachers and parents. Visitors had the opportunity to watch demonstrations of skills like carpentry and cooking, but also to talk to colleges and career advisors. Interest in EU-offered opportunities was high - many young people did not know that they could participate in EU exchange programmes no matter what their career choice. There was high demand for information about the Leonardo da Vinci programme for vocational education and training, as well as about Youth in Action exchanges and youth programmes. Commissioner Androulla Vassiliou's presentations on Friday 7 October were well-attended and interesting. All in all, WorldSkills London was a great place for Youth on the Move to be!
Programme
WorldSkills London 2011

More information
Video of the event
---
Pictures from the event
---
Other events