WorldSkills 2011 London
International skills Competition and careers event, 06/10/2011
---
Youth on the Move representatives spoke to thousands of young people, their teachers and parents during the 4-day WorldSkills 2011 London competition. Visitors to the event had the opportunity to watch demostrations of skills like carpentry and cooking, but also to talk to colleges and career advisors.
Interest in EU-offered opportunities was high - many young people did not know that they could participate in EU exchange programmes no matter what their career choice. There was high demand for information about the Leonardo da Vinci programme for vocational education and training, as well as about Youth in Action exchanges and youth programmes. Commissioner Androulla Vassiliou's presentations on Friday 7 October were well-attended and interesting. All in all, WorldSkills London was a great place for Youth on the Move to be!
---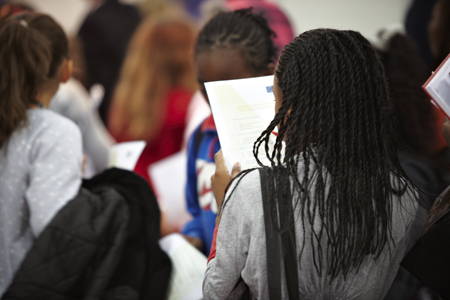 [05/10/2011] The first day of WorldSkills 2011 London was geared towards primary school children and was very lively. Group after group of children visited the Youth on the Move stand to test their knowledge of the EU in a quiz and to see presentations about going abroad, including a very colourful presentation from students from the Blackpool and the Fylde College who did hairdressing and beauty apprenticeships in Italy. The children had some fun at our stand and learned a thing or two about the EU in the process!
[06/10/2011] Dozens of thousands of vocational trainees and secondary schools students flooded today the huge ExCel exhibition center in London to participate at the WorldSkills, the biggest planetary competition in vocational skills. Not only did they watch the masons, carpenters, tailors, florists or cooks from all continents compete, but often were also offered possibilities to try out these skills themselves.
Many of them also found their way to the Youth on the Move stand which today programmed several Leonardo, Comenius and Youth on the Move experiences, plus a presentation of Eures. The youngsters discussed with the project promoters, but were also looking for entertainment - the most applauded was therefore the dance performance Positive Steps, prepared by a group of former offenders from West Midlands and made possible by the Youth in Action programme.
[07/10/2011] Commissioner Vassiliou visited on Friday morning the William Davies Primary School in London, where she spoke with children about the importance reading and actually read with some of those who have trouble reading well.
At the WorldSkills, the world's largest competition for trainees and apprentices, she spoke about the importance of vocational training and about EU projects to help young people try studying and working abroad, and reform of education systems. She pointed out the mismatch between the educational outcomes and employers' expectations. She also admired the skills of the young participants from 15 countries in bricklaying, cooking, hairdressing, and "had a go" at a carpenttry task herself.
At the Youth on the Move stand she chatted with English teenagers about their school experiences and explained what Europe can do for them. She said she knew many young Brits were not interested in going abroad to study or learning foreign languages, but appealed to them to change their attitude. She was supported in her call by the MEP Mary Honeyball and Simon Hunt English rugbyplayer and YoM ambassador. Simon recalled his 3 year stay in France and said that this experience had changed his life.