AI:MEE - Creating long-term development with artificial intelligence
The EU-funded AI.MEE project is helping create long-term growth in Sweden's Örebro region by developing concrete technical solutions and platforms in artificial intelligence and autonomous systems that will be made available to a range of companies.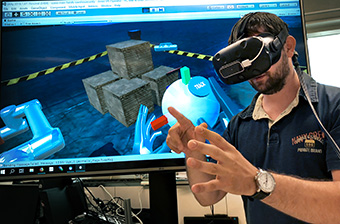 Projects and people involved in AI.MEE, a collaboration between Alfred Nobel Science Park and Örebro University ©Jesper Eriksson, Örebro University 2018, 2019
" AI.MEE gives regional companies the possibility to take part in the state-of-the-art competences in AI and autonomous systems. It is a platform that allows us to make use of the research while at the same time showing the potential for AI to make an impact on industry. This process is circular. New research ideas emerge from applications and from the interaction between the different actors involved in the project. "
New technologies like artificial intelligence (AI) and autonomous systems let companies solve old problems in new, innovative ways. However, as this technology is extremely expensive, many companies cannot afford it and, as a result, risk of being pushed out of the market.
To ensure its industries remain competitive in today's smart industry, Sweden is making significant investments in in robotics, AI, and human-machine interaction. In the Örebro region, the AI.MEE project is providing local companies with facilities to test new technology solutions.
A chance to evaluate and test
Part of the Örebro University's Centre for Applied Autonomous Sensor Systems, the testbed gives companies a chance to evaluate and test innovative solutions without costly investments in equipment and knowledge. For example, the Robotlab demonstrator platform is a high-tech lab and open environment where researchers can test and validate robots and AI. The lab is equipped with a safety net for working with drones, and the roofing material has integrated sensors.
In addition to providing a complete infrastructure for testing and development, the project also offers: technical expertise in AI and autonomous systems, project and innovation consulting, networking opportunities, skills and knowledge dissemination, and visits and seminars.
Pilot studies already underway
By providing an open environment for companies and researchers to test and develop new technologies, the project is facilitating knowledge sharing and skills development in AI, robotics, and autonomous systems. Although still a work-in-progress, the project has already helped dozens of companies conduct pilot studies in AI and autonomous systems.
One of those companies is MH Engineering, who used the testbed to create AutoHIC – a system for remotely controlling robots using a virtual control unit. The purpose of the system is to improve the working environment of operators who carry out thermal spraying. With AutoHIC, they no longer have to be physically inside the power and heating plant boilers or use heavy – and often hazardous – equipment.
Collaborations with other companies, including Saab and Epiroc, are being conducted.
Total investment and EU funding
Total investment for the project "Autonomous Intelligent Machines Exploration & Enterprise (AI.MEE)" is EUR 2 706 893, with the EU's European Regional Development Fund contributing EUR 1 332 671 through the "East-Central Sweden" Operational Programme for the 2014-2020 programming period. The investment falls under the priority "Jobs, Growth and Investment".
Draft date
29/05/2019
Related themes
Technical information
Fund
European Regional Development Fund
Operational programme
East-Central Sweden - ERDF
Thematic Objectif
Access to and use of information and communication technologies (ICT)
Programming period
2014-2020
Project duration
08/2017 - 12/2020
Total Investment
2 706 893 EUR
EU Investment
1 332 671 EUR
CCI
2014SE16RFOP004
Contact
Managing Authority
Tillväxtverket
Box 4044 102 61 Stockholm
Alfred Nobel Science Park
Beneficiary
Fakultetsgatan 1
70281
, Örebro
Sverige
Web