Healthcare that puts patients, clients and families first
Co-operation and Working Together (CAWT)[1], the cross-border health partnership based in the Ireland/Northern Ireland border region, is delivering 12 diverse health and social care projects. Collectively the projects are entitled 'Putting Patients, Clients and Families First' and the overall aim is to improve access to services, promote health and well-being and inclusion and reduce health inequalities in more rural border areas.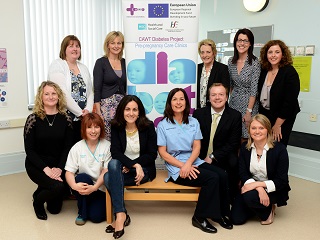 European Commission visit to the CAWT diabetes project in Ireland/Northern Ireland. ©CAWT
" We are delighted to report that both programmes are proving to be a great success with those with diabetes. Children who have attended CHOICE are telling us that they feel more in control of their diabetes and their blood glucose results are showing improvements. Similarly, women attending Pre-pregnancy Care have found the clinics supportive and beneficial and early findings show improvements in blood glucose control, which will benefit both baby and mother. "
Each project is being independently evaluated. However, some positive impacts have already been realised such as the sustaining and continuation of many services after the EU funding period. The12 projects range from promoting social inclusion, establishment of cross-border acute hospital services and sexual health (GUM) clinics to dealing with issues such as alcohol, eating disorders, disabilities, diabetes, obesity and autism. Support for older people and enhancing cross-border workforce mobility are also project areas.
Web link for information on each project
The CAWT Annual Progress Report provides an overview of each project's status and achievements.
Highlights and impacts
An overall beneficiary target of 21 840 people has been exceeded, with over 50 000 patients / clients having received or benefited from services.
The cross-border ENT service established between the HSE Dublin North East (Republic of Ireland) and the Southern Trust (Northern Ireland) has continued after the EU funding period.
The 'Time IVA Change' project provided brief intervention support to 2 874 people potentially at risk from misuse of alcohol.
The Citizenship for People with Disabilities project has supported 389 people with disabilities and a further 225 and their families have benefited from respite schemes.
The 'Tackling Diabetes in High Risk Clients' project has enabled 392 women with diabetes to attend Pre Pregnancy Care clinics, while 3 089 young people and their family members have attended the 'CHOICE' diabetes education programme.
4 081 people have benefited from the 'Promoting Social Inclusion and Tackling Health Inequalities' project including people from Traveller communities and marginalised and vulnerable women.
The Turning the Curve autism support project has led to creation of some permanent support posts.
European Commission visit
In May 2014, Maria Jose Doval Tedin, Programme Manager at the European Commission and Paul Boylan from the Special EU Programmes Body in Ireland/Northern Ireland visited a CAWT Pre-Pregnancy Care clinic and met with project staff.
Total investment and EU funding
Total investment for the project "Putting Patients, Clients and Families First" is EUR 30 000 000, of which the EU's European Regional Development Fund is contributing EUR 22 500 000 from the Operational Programme "Northern Ireland, the Border Region of Ireland and Western Scotland" for the 2007 to 2013 programming period.
[1] CAWT is the Delivery Agent. The Lead Partner for 'Putting Patient, Clients and Families First' is the DHSSPS in Northern Ireland, in conjunction with the Department of Health in Ireland.
Draft date
06/03/2015
Social media
Related themes
Contact
Managing Authority
Beneficiary
CAWT (Co-operation and Working Together)
Riverview House, Abercorn Road
BT48 6SB
, Londonderry
United Kingdom
Web