Developing the Wild Animal Park at Hortobágy
The Hortobágy Safari Park project supported the National Park in its efforts to manage increased tourist interest and helped ensure that know-how is effectively transferred to all stakeholders involved in sustainable ecotourism.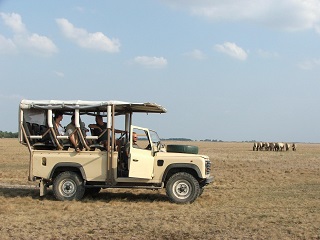 The Hortobágy Safari Park showcases wildlife which used to live wild on the Hungarian plains. ©Hortobágyi Nemzeti Park
" The aim of the Wild Animal Park is to teach the visitors about the problems that the animals have to face even within a National Park and what the National Park does to protect them. "
The Hortobágy Wild Animal Park is a perfect place for showcasing the "ancient wildlife" of the Hungarian Puszta, "presenting some of the animals living here before the appearance of man, but driven to extinction by the spread of civilization", according to the National Park. Animal species, such as wolves, jackals, Przewalski's horses (the Park runs a famous breeding programme and is home to the world's largest population), vultures and pelicans are found in the park, while others are living in protected areas (wildcats, foxes, polecats, white-tailed eagles, cranes and great white egrets).
New programmes to boost ecotourism
One of the main outcomes of the project was to broaden the range of programmes offered by the National Park. It now carries out activities related to recently implemented projects, as well as offering a wider range of tours. For example, large grazing animals can be observed closely thanks to an extra safari option. "Visitors can travel by a land rover, with expert guidance, among the wild horses and auroxes," says project leader, Kristin Brabender. "The programme incurs an extra fee and takes 20 minutes, with a maximum seven people taking part persons. The extra safari depends on the weather conditions."
As part of the project, a 3.8 km road was built to provide easy access to the park, regardless of weather conditions. The project is expected to further contribute to the development of the area.
All animal species found in the park are "connected with nature protection issues", says Ms Brabender. "Most of the birds in the enclosures arrived here from a Bird Rescue Center and are either injured, weak or have been poisoned and didn't recover fully. Roe deers and jackals are also rescued animals."
Total investment and EU funding
Total investment for the project "The Development of Hortobágy Safari Park" is EUR 1 685 652, of which the EU's European Regional Development Fund is contributing EUR 1 340 546 from the Operational Programme "North Great Plain" for the 2007 to 2013 programming period.
Draft date
30/03/2015
Related themes
Contact
Managing Authority