A cross-border hospital in Cerdanya improves healthcare for French and Spanish citizens
Two regions of France and Spain, sharing a common border, have decided to build a cross-border hospital in order to improve the access to healthcare of the local population.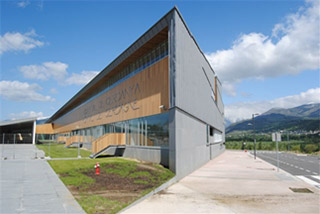 The cross-border Hospital of Cerdanya ©The cross-border Hospital of Cerdanya
" The opening of the new hospital will improve the range of services offered to the Spanish population of Catalonia and extend to the French population of Cerdanya. For the French ones, before the HTC the nearest hospital required two hours trip at least. "
The "Cross-border Hospital of Cerdanya" is a one-of-a-kind fully-equipped hospital in the town of Puigcerdà. As part of a wider cross-border healthcare project, it aims to ensure the availability of proper and multi-profile healthcare to the local population.
The establishment will serve not only as a place for the treatment of acute medical problems, but also as the core of a network of cross-border health services. Co-financed by the European Regional Development Fund, the hospital has been equipped with 64 beds, 32 rooms, three operating rooms, one birth room and additional multi-purpose facilities. It will be able to provide patients with quick and easy access to the most popular medical services, as well as giving them the opportunity to use the new cross- border health centers of excellence in the fields of geriatrics, rehabilitation and paediatrics.
Launched in September 2008, the cross-border hospital project is the result of a successful partnership between the European Grouping for Territorial Cooperation of the cross-border Hospital of Cerdanya and the Health Department of the Generalitat de Catalunya (Spain). The project envisions the creation of a separate cross-border organisation for the construction and management of this establishment.
The solution to healthcare shortages
The area of Cerdanya is inhabited by approximately 30 000 people, a number which rises to 150 000 during tourist periods. This comparatively large local population and its relative remoteness from large cities and multi-profile medical facilities present a problem when locals or tourists are in need of healthcare service. An additional complication is also present in the form of the differences between Public Health Care (PHC) systems and asymmetric institutional competences in France and Spain.
Nevertheless, the health care needs of people are the same on both sides of the border. The cross-border hospital presents a unique solution by allowing both French and Spanish nationals to make use of health services by taking into account both PHC systems and integrating their advantages to form a new and more inclusive form of cross-border health care.
Total investment and EU Funding
Total investment for the project "EFA 32/08 HTC: Cross-border Hospital of Cerdanya" is EUR 28 615 385, with the EU's European Regional Development Fund contributing EUR 18 600 000 from the "France-Spain-Andorra" cross-border cooperation operational programme for the 2007 to 2013 programming period.
Draft date
15/10/2014
Related themes
Technical information
Operational programme
Operational Programme 'France - Spain - Andorra'
Thematic Objective
Promoting social inclusion & combating poverty
Programming period
2007-2013
Project duration
01/2008 - 12/2012
Total Investment
28 615 385 EUR
EU Investment
18 600 000 EUR