Upgrades allow Östersund ski stadium to host major international events
The ski stadium at Östersund, in the Central Norrland region of northern Sweden, has received extensive upgrades under two EU-funded projects. These improvements enable the venue to host major international winter sports events and other activities during the rest of the year.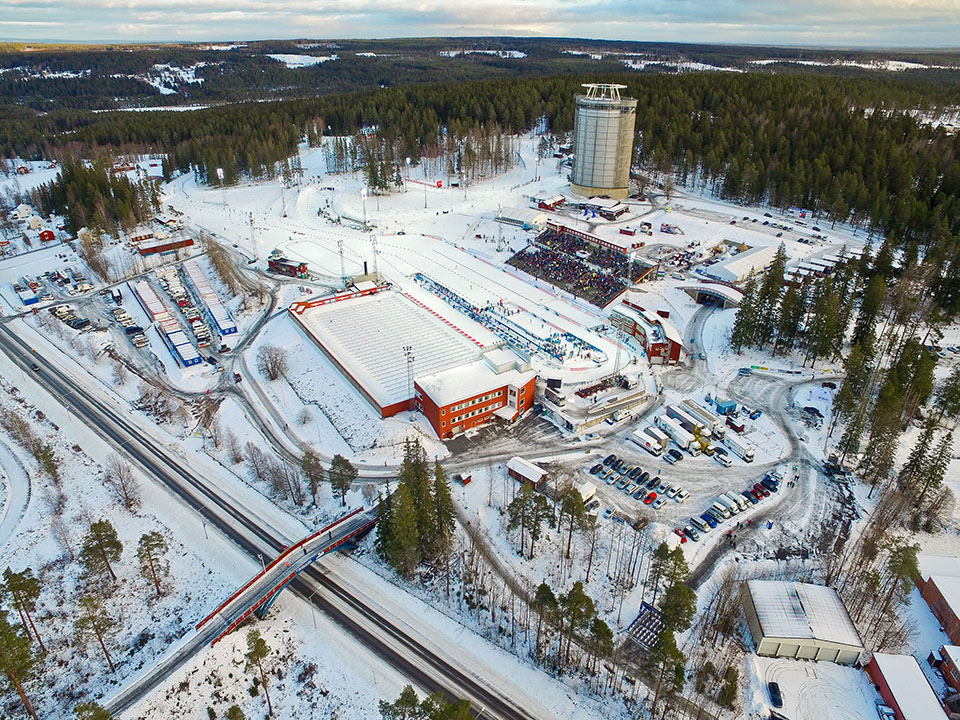 An aerial view of Östersund ski stadium © Östersunds kommun, kultur- och fritidsförvaltningen ©Roger Strandberg (2017)
" These projects have laid the foundation for the modern arena Östersund ski stadium is today. They have made it possible for Östersund to become a permanent organiser for mega events like the premiere for the annual Biathlon World Cup. "
Developments under the first project included construction of 20 ski waxing cabins, permanent stands for 2 200 spectators and commentary booths; upgrading of track lighting and toilet facilities; adjustments to tracks and earthworks; and asphalting of the biathlon penalty loop.
Hatches over lane marker holes were replaced and ammunition collectors were installed at the shooting range. The snow-making system was modernised with the building of a pond for cooling water and a pipe linking it to the arena. This allows for hosting of early-season winter sports meetings and preseason training.
Media centre, drug-testing facilities
The second project entailed the construction of a media centre, which also contains drug-testing facilities. Both of these are required by many international sporting federations. Outside the winter sports season, the building can be rented out for activities such as conferences organised by local sports associations.
Further features of the project were rebuilding the shooting range; changes to the stadium layout to provide more flexibility for biathlon and cross-country skiing courses; levelling out of the surface of the arena; and construction of a tunnel to improve access for journalists, event organisers and competitors. Work related to connections to public utility infrastructure was also carried out.
In all, 65 people – 25 women and 40 men – were involved in the projects, which created two new jobs.
The first project ran from July 2008 to July 2011, the second one from January 2013 to September 2014.
A venue for everyone
Östersund ski stadium was built over several phases, with no long-term plan regarding the type of events it was intended to stage. A key challenge for the two projects was thus to develop a venue that, on one hand, would meet the requirements for international competitions and, on the other, would be suitable for use by local residents and associations when no competitions were taking place. Östersund's status as a well-established host of large events made it easier to discuss requirements for the upgrades with the relevant sporting bodies.
The arena's location in a nature park presented an additional challenge given the development restrictions related to use of water for snow making, saving of snow from one winter to the next, and laying of an asphalt track for roller skiing.
Thanks to the two projects, the stadium has been transformed from a cross-country skiing-only venue into Sweden's national biathlon arena. Moreover, it is regularly chosen to host global sporting contests such as the annual premiere of the Biathlon World Cup and meetings within the Cross-Country World Cup, as well as the 2019 World Biathlon Championships, the 2021 Special Olympics World Winter Games and para-sports competitions.
The projects have helped make it possible for Östersund's Mid Sweden University to offer study opportunities to athletes and to set up the Swedish winter sports and sports tech research centres. Finally, the stadium's commercial viability has been enhanced and it has joined with other nearby sports facilities to create a village for big events.
Total investment and EU funding
Total investment for the project "Östersund's ski stadium – a world-class arena/Further development of Östersund's ski stadium – a world-class arena" is EUR 5 310 000 (SEK 56 100 000), with the EU's European Regional Development Fund contributing EUR 2 490 000 (SEK 26 300 000) through the "Central Norrland" Operational Programme for the 2007-2013 and 2014-2020 programming periods. The investment falls under the priority "Jobs, Growth and Investment".
Draft date
05/04/2020
Social media
Related themes
Technical information
Fund
European Regional Development Fund
Operational programme
Central Norrland - ERDF
Thematic Objective
Strengthen research, technological development & innovation
Programming period
2014-2020
Project duration
01/2008 - 09/2014
Total Investment
5 310 000 EUR
EU Investment
2 490 000 EUR
Contact
Managing Authority
Tillväxtverket
Box 4044 102 61 Stockholm
Beneficiary
Östersunds kommun
Kultur- och fritidsförvaltningen
831 82
, SE-831 82, Östersund
Sverige
Web