Work continues on Spanish section of Madrid-Lisbon high-speed railway
All elements necessary for commissioning the 178.6 km Plasencia-Cáceres-Badajoz section of the Madrid-Lisbon high-speed railway are being put into place under an EU-funded project. The track is being assembled; the line is being electrified; and safety, signalling, telecommunications and auxiliary installations are being set up.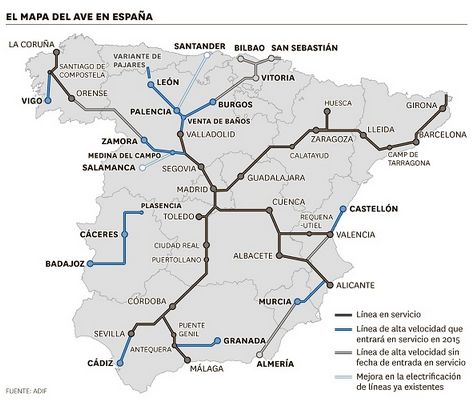 The project covers the 178.6 km Plasencia-Cáceres-Badajoz section of the Madrid-Lisbon high-speed railway. ©European Union
For use by passenger and goods traffic, the double-track line will be fitted with a 25 kilovolt alternating current electrification system and European Rail Traffic Management System Level 2 signalling equipment. The maximum speed will be 300 km/h.
To ensure compatibility with adjacent sections, Iberian-gauge track will be laid at first. Subsequent conversion to standard gauge (1 435 mm) is planned on the entire railway.
Development in three sections
The Madrid-Lisbon line will have a total length of 715 km, of which 465 km will be in Spain, running through the autonomous communities of Madrid, Castile-La Mancha and Extremadura.
Construction of the Spanish part of the line is split into three sections, which are at various stages of development. In addition to the Plasencia-Cáceres-Badajoz section, these are the section between Madrid and Plasencia and the 20 km stretch between Badajoz and the Portuguese border, of which 2.6 km is on Portuguese territory.
The current project follows on from the laying of the track bed, initial track assembly works and the installation of civil protection and safety facilities in tunnels. All of these were carried out through previous EU-funded actions.
Fast, competitive railways
Construction of the high-speed line – which will form part of the Atlantic Corridor of the Trans-European Transport Network (TEN-T) – will improve transport infrastructure in Spain. It will align it more closely with the rest of Europe as regards aspects such as track gauge, thereby increasing rail interoperability.
By strengthening connections between Madrid, Extremadura and Lisbon, and all along the Atlantic Corridor, the line will boost the competitiveness of the railways. Shorter journey times and better long-distance services are expected to encourage more people to take the train. This, allied to the project's contribution to the elimination of diesel traction, will help reduce CO2 emissions.
Total investment and EU funding
Total investment for the project "Atlantic Corridor Madrid-Lisbon high-speed line for mixed traffic – track, electrification and installations phase II" is EUR 1 564 718 863, with the EU's European Regional Development Fund contributing EUR 264 950 000 through the "Multiregional Operational Programme for Spain" for the 2014-2020 programming period. The investment falls under the priority "Promoting sustainable transport and removing bottlenecks in key network infrastructure".
Draft date
14/05/2020
Related themes
Technical information
Fund
European Regional Development Fund
Programme
Sustainable growth - ERDF
Thematic Objective
Sustainable transport & removing bottlenecks in network infrastructures
Programming period
2014-2020
Project duration
07/2008 - 06/2022
Total Investment
1 564 718 863 EUR
EU Investment
264 950 000 EUR
CCI
2019ES16RFMP001
Contact
Managing Authority
Subdirección General de Gestión del FEDER, de la Dirección General de Fondos Europeos del Ministerio de Hacienda.
Paseo de la Castellana 162. 28071 Madrid
Beneficiary
Administrador de Infraestructuras Ferroviarias Alta Velocidad
C/ Sor Ángela de la Cruz, 3. 8ª planta
E-28020
, Madrid
España
Web