Putting beekeeping back at the heart of rural life in Hungary, Slovakia
By pollinating plants, bees play a vital role in maintaining natural ecosystems and supporting agriculture. Forests are one of their main habitats and beekeeping has traditionally been a central part of forestry work. Loss of biodiversity, changes in forestry practices and disease have led to a decline in bee numbers and weakened this tradition. The Hungarian and Slovak foresters' bee project (Foresters and Bees) aims to restore it through the construction of model beehives, a beekeeping museum, educational facilities and processing plants for bee products.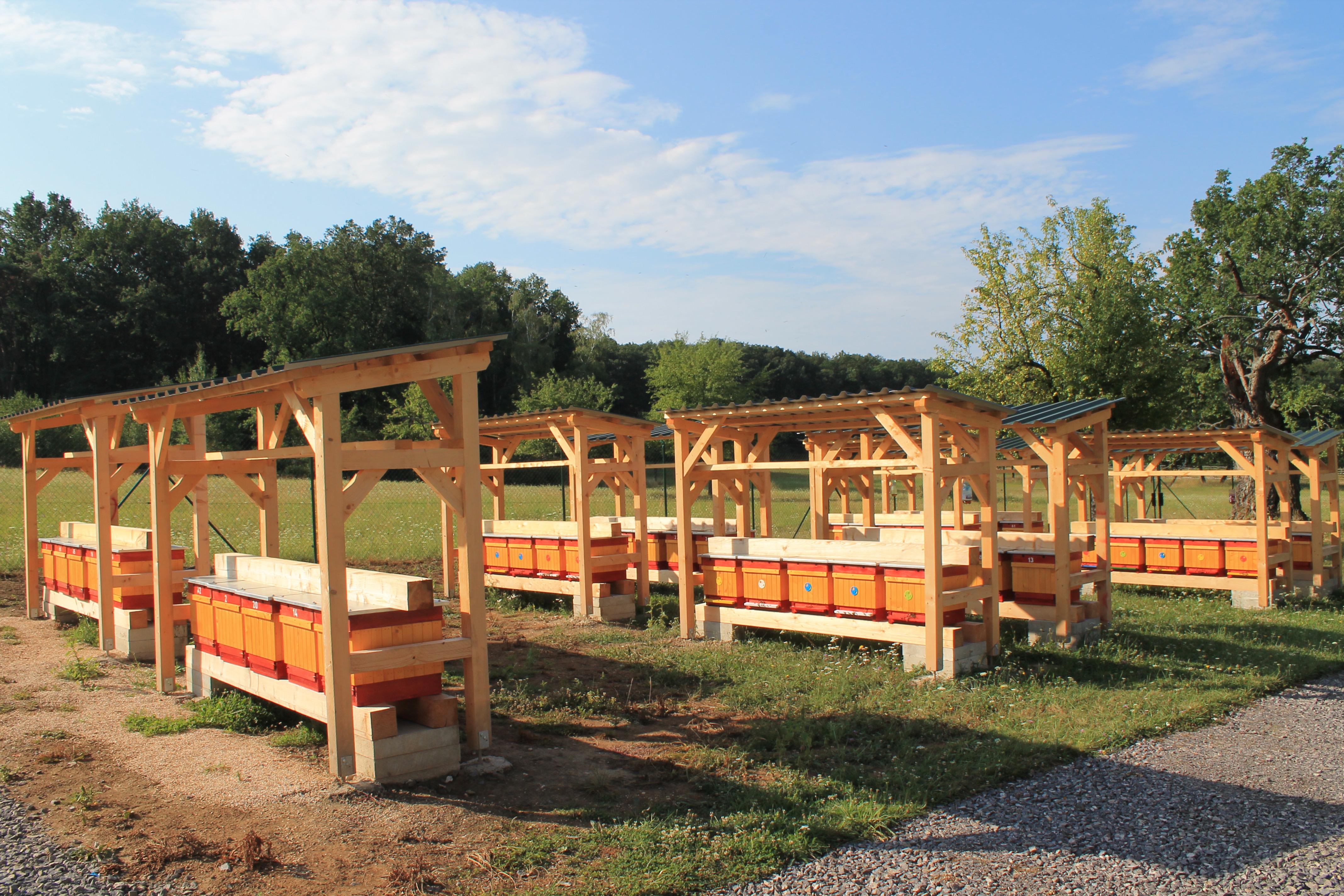 The apiary at Žikava set up under the Foresters and Bees project ©František Král
" This project is a way to revitalise the tradition of beekeeping, to bring back the positive effects of bee colonies on the countryside and to promote the tradition of beekeeping. Last but not least, it will positively influence the character of young people and awaken their interest in beekeeping. "
Bee pastures have been created in Hungary and Slovakia and tractors purchased to maintain them. Classrooms to teach both children and adults about beekeeping are under development in Vértestolna, Hungary and Topoľčianky, Slovakia.
An apiary for 120 bee families has been set up at Žikava, Slovakia, and an open-air beekeeping museum in Topoľčianky. Honey and wax processing plants in Topoľčianky and Vértestolna are being established. Events held under the project have included a day of lectures and field presentations for professional beekeepers.
Widespread decline
In the past, foresters in Hungary and Slovakia kept bees in a clean, natural environment. Around 170 bee families were living in the forests near Topoľčianky until 1991, but bee breeding subsequently declined there. This has had a negative effect on the making and processing of bee products, including honey, wax and natural medicinal remedies, as well as on other rural traditions. The decline is not limited to Hungary and Slovakia, as today European producers only meet 60 % of the continent's demand for honey.
Against this background, Hungarian forestry enterprise Vértesi Erdő Zrt., the project's lead partner, saw the potential in beekeeping and renovated its apiary in 2013. It now has nearly 100 bee families in its pastures, where conditions are conducive to the production of high-quality honey.
Environmental benefits
Foresters and Bees aims to ensure the environmental and agricultural benefits that bees bring will again be exploited. Moreover, in seeking to re-establish traditional rural practices and products, it connects natural and cultural heritage.
A key goal of the project is to raise awareness of the importance of bees and promote beekeeping among local people, particularly the young. Organisation of practical workshops, lectures for children, presentations for adults and other public events at the Foresters and Bees facilities will enhance knowledge of the cultural, historical, natural and scientific aspects of beekeeping, as well as boost sustainable tourism and the local economy.
Bee pastures and model beehives will enable visitors to observe bees and the work of professional beekeepers, while the processing plants and open-air museum will demonstrate how bee products are made. Finally, revitalisation of habitats covering 97.6 hectares will improve the natural environment, boost biodiversity and contribute to rural development.
Total investment and EU funding
Total investment for the project "SK-HU FORESTERS AND BEES – The Hungarian and Slovak foresters bee project" is EUR 1 093 136, with the EU's European Regional Development Fund contributing EUR 929 165 through the cooperation programme "Interreg V-A - Slovakia-Hungary" . The investment falls under the priority "Nature and culture".
Draft date
10/05/2019
Related themes
Contact
Managing Authority
Ministry of Foreign Affairs and Trade of Hungary
Bem rakpart 47, 1027 Budapest, Hungary
Beneficiary
Vértesi Erdészeti és Faipari Zártkörűen Működő Részvénytársaság
Dózsakert utca 63
2800
, Tatabánya
Magyarország
Web