New cycle path ensures safe commutes in north-west Czech Republic
To ensure that citizens can safely cycle to work and school, the communities of north-west Czech Republic built a dedicated bicycle lane along a busy highway.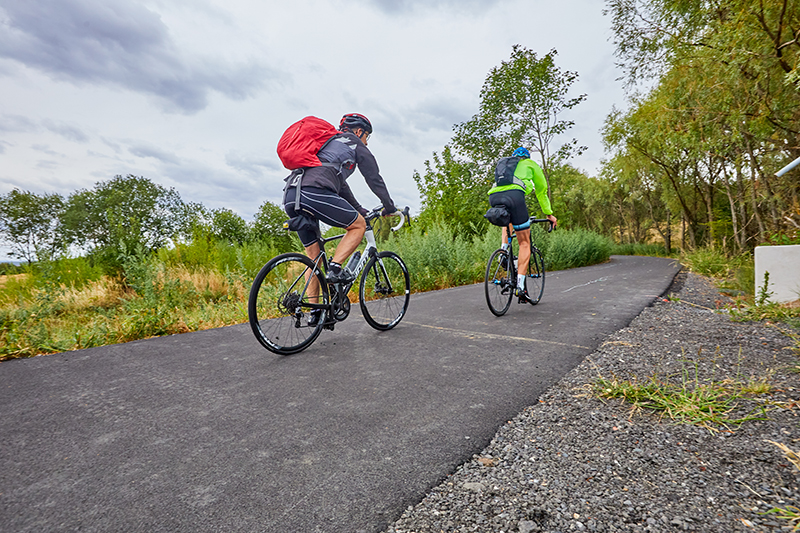 Cycle paths are being built along the highway between Prunéřov and Černovice, in north-west Czech Republic. ©Ministry of Regional Development/ Antonín Kapraň
" The Prunéřov - Černovice cycle path has become an important part of the domestic network of cycle paths. It follows other cycle routes throughout most of the region. The safe, easy-to-use bike path is used by cyclists riding to work, by tourists and even by families with children. "
The highway connecting the towns of Prunéřov and Černovice in north-west Czech Republic is busy. Over 13 000 vehicles per day use sections of this road.
Because this high density of traffic makes the road unsafe for cyclists, people are hesitant to use this mode of transport. Instead, they drive, even for short trips, which contributes to congestion and pollution
To remedy this situation, the region is adding dedicated bicycle lanes along the highway. This particular EU project built 7.8 km of bike paths.
Another section complete
In addition to the asphalt path, which is separated from the highway, the project constructed 15 dedicated bicycle parking spaces. The entire route is has information boards that show the route and list rules and regulations.
The project represents one section of a larger initiative to build bicycle paths all the way between the towns of Prunéřov and Černovice, a distance of 9 km. Some sections have already been completed.
A safe commute
Together, these new paths will help ensure the safety of cyclists. As safety increases, so will the number of people choosing to bike to work, school, and shops.
The region is home to a significant mining operation. As such, the new paths not only connect to the mines, but also provide a safe route around the mines for those looking to travel through the reclaimed area.
The path connects to the regional power plant – one of the area's biggest employers – and thus encourages workers to cycle.
Total investment and EU funding
Total investment for the project "Cycle path Prunéřov - Černovice" is EUR 1 180 637, with the EU's European Regional Development Fund contributing EUR 1 003 541 through the "Transport" Operational Programme for the 2014-2020 programming period. The investment falls under the priority "Jobs, Growth and Investment".
Draft date
09/03/2020
Related themes
Technical information
Fund
European Regional Development Fund
Operational programme
Transport - ERDF/CF
Thematic Objective
Sustainable transport & removing bottlenecks in network infrastructures
Programming period
2014-2020
Project duration
01/2017 - 05/2018
Total Investment
1 180 637 EUR
EU Investment
1 003 541 EUR
Contact
Managing Authority
Ministerstvo dopravy - Odbor fondů EU
Beneficiary
Cyklostezka Prunéřov-Černovice
Mírové náměstí 1
432 01
, Kadaň
Česká Republika
Web