Cross-border project develops holistic approach to dementia care
Healthcare professionals in the '2 Seas' cross-border area have joined forces to develop new approaches to dementia care. The CASCADE project aims to deliver care for people with dementia and older people in a way that allows them to live in their own homes for longer and decreases demand for hospital beds. The project is being rolled out in parts of the south of the UK, northern France, Flanders in Belgium, and the Netherlands.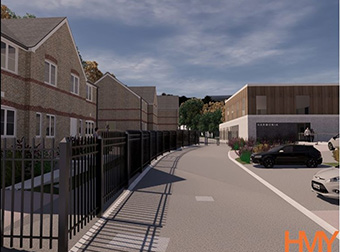 The Harmonia Village for dementia being developed in Dover, in the UK. ©CASCADE
" CASCADE is changing the way we care for people living with dementia. It's putting the people living with and working with dementia at the forefront of their care. "
Typically, dementia care is provided at home or in an institution. CASCADE is introducing a more flexible approach that enables people living with dementia and older people to move easily between levels of care that are provided at a person's house, in a specially equipped guesthouse or residential setting, or a hospital. The goal is to provide care that maximises a person's independence while responding swiftly to their changing needs.
The CASCADE model provides more than 50 new beds to cater for patients and is being initially trialled in Belgium before being expanded to the UK. The Belgian partners are implementing the project with 301 residents in two sites.
Innovative technology
CASCADE is deploying two telemedicine systems in the project guesthouses. The aim here is to test cutting-edge technology in a controlled setting before it is installed in a person's own home. A residential monitoring system helps people living with dementia to keep living independently while supporting care staff in their decision making. A video communications system allows a person to interact with their care providers, thereby avoiding unnecessary trips to hospital.
The project team believes this is the first time that consumer and medical technology have been combined to benefit people with dementia. The ability to access professional services quickly ensures patient safety and reduces frontline staffing costs. Multi-lingual learning packs provide training to everyone who has contact with people with dementia.
Also as part of the project, a Centre of Excellence for Dementia is being developed in Dover, in the UK. The centre includes a guesthouse, long-term residential care options, and training and development facilities. This resource provides an expert hub in a single location that can deal with every aspect of dementia.
Personal touch
Through the project, Dover hosted a World Café attended by people with dementia, their families and carers, charities, health and social care workers, and local businesses. They collaborated to create the vision statement: 'A welcoming place to meet and share what's important to you.'
Project partners implemented an original memory-rehabilitation programme in Lille, France based on empirical research demonstrating how exposure to some smells may alleviate difficulties in retrieving personal information. In Belgium, the project has enhanced holistic, personalised care within partner facilities and the local area by asking family, visitors and staff to take pictures of the strengths of people living with dementia, to make a positive photo collage.
Total investment and EU funding
Total investment for the project "Community Areas of Sustainable Care and Dementia Excellence in Europe (CASCADE)" is EUR 9 295 277, with the EU's European Regional Development Fund contributing EUR 5 577 166 through the "Interreg V-A - France-Belgium-The Netherlands-United Kingdom" Operational Programme for the 2014-2020 programming period. The investment falls under the priority "Research and Innovation".
Draft date
17/01/2020
Related themes
Contact
Managing Authority
Région Nord-Pas de Calais
151, avenue du Président Hoover - 59555 Lille Cedex - France
Beneficiary
The Health and Europe Centre
Farm Villa, Hermitage Lane Maidstone
ME16 9PH
, Kent
United Kingdom
Web