Bringing Vienna's fountains to life
Through the addition of interactive water fountains, revamped landscaping, and comfortable seating, Vienna's Wasserwelt Park has been transformed from a run-down relic of the past and into a modern recreational destination.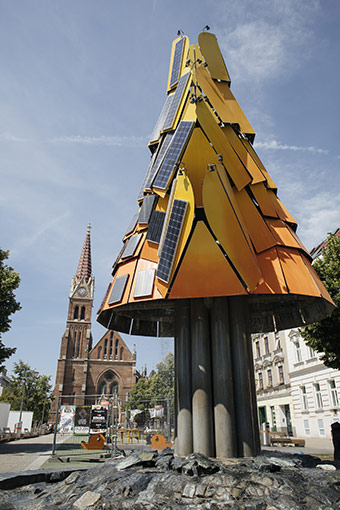 Wasserwelt Park fountains ©ÖROK/APA-Fotoservice/Tesarek (2018)
" By redesigning the Wasserwelt Park, we have created an attraction that is very popular with children and teenagers "
Although once beautiful works of sculpture and water, Wasserwelt Park's seven water fountains were clearly past their prime – with many features either not working or covered in graffiti. 'The district administration decided to remedy this situation by modernising the area and making the water fountains available to the public again,' says Clarissa Knehs of the Vienna Municipal Department for Architecture and Urban Design.
Balancing preservation and modernisation
To start, project researchers went to the park and surveyed 800 people (in several languages) about what they would like to see in the redesigned facility. People wanted the park's unique character be preserved. For example, the Tree of Life Fountain, an eye-catching sculpture at the park's entrance, was generally seen as a landmark essential to the identity of the area and worth preserving.
For project coordinators, this need to balance preservation and modernisation proved challenging. 'We had to find a way to turn existing features into something that would resonate with the population while also making sure that any new elements blended seamlessly with the existing infrastructure,' says Franz Kainacher of the Vienna Municipal Department for Road Management and Construction. 'We had to do this while keeping costs down.'
Interactive features for all ages
The renovations responded to a trend for more intense use of public spaces. For example, although the fountains were originally meant to be enjoyed visually, a new interactive feature added during the project means the fountains can now be enjoyed physically too. 'Fountains intended as mere visual displays don't really fit into today's world,' says Knehs. 'People want something they can touch – an environment where children can play and run around.'
To meet this need, many of the park's fountains were equipped with in-ground nozzles and a little stream. The Nakajima Fountain was converted into a shallow pool that reflects a nearby historic church. 'People really like this feature, and we often see children splashing and wading through the pool,' adds Knehs.
With the new interactive fountains, a pedestrian path, new trees, modern playground equipment, and comfortable seating, Wasserwelt Park is once again an attractive place for residents of Vienna.
Total investment and EU funding
Total investment for the project "Wiener Wasserwelt" is EUR 2 320 000, with the EU's European Regional Development Fund contributing EUR 1 160 000 through the "Investments in Growth and Employment Austria" Operational Programme for the 2014-2020 programming period. The investment falls under the priority "Sustainable integrated urban development".
Draft date
26/07/2019
Related themes
Contact
Managing Authority
Geschäftsstelle der Österreichischen Raumordnungskonferenz
Ballhausplatz 1, A-1014 Wien
Beneficiary
Stadt Wien
Magistratsabteilung 28 – Straßenverwaltung und Straßenbau
Lienfeldergasse 96
1170
, Vienna
Österreich
Web