Alpine partnerships create value from waste thanks to Interreg Alpine Space Programme
Urban and rural businesses are turning organic waste into beauty treatments, packaging, drinks and more, with help from the AlpBioEco project. Its partners have designed models for profitably using discards from local produce with SMEs in Austria, France, Italy, German and Slovenia. The project ensures more sustainable use of regional resources and creates new opportunities for farms, small businesses and local communities.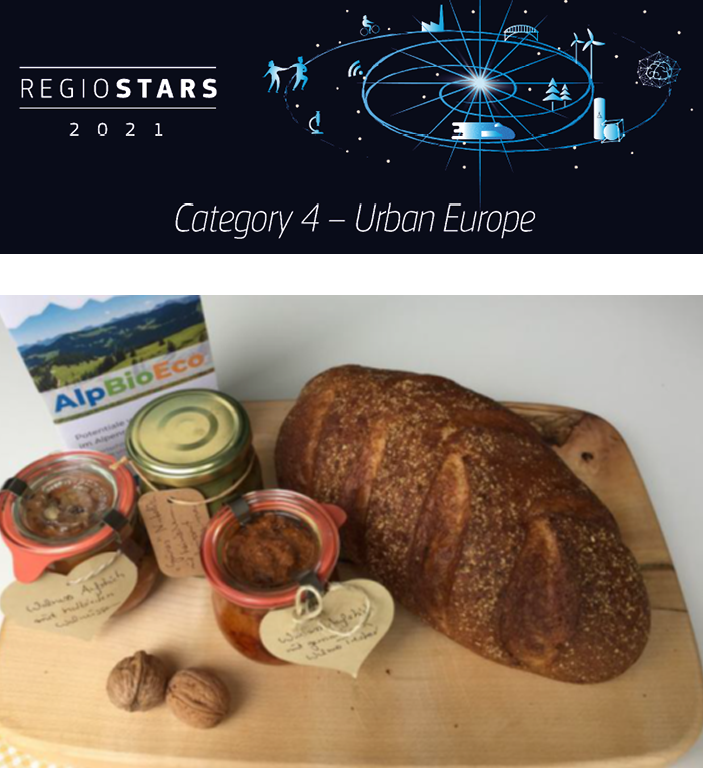 Walnut products from AlpBioEco ©AlpBioEco
" "AlpBioEco has proven that side streams, which are often disposed of, are economically interesting and can be used as material for new products." "
Businesses across the Alps face challenges from their geography, local economies and globalisation. The 13 AlpBioEco partners looked for untapped opportunities in the value chains of apples, walnuts, alpine herbs and other local crops. They paid particular attention to sidestreams such as apple pomace or walnut press cake – the waste left over after juice or oil has been extracted.
AlpBioEco generated seven business models that SMEs can use to develop and market eco-innovations, for more competitive and circular local economies. The project has created a regional and transregional network of players, rural and urban, to promote sustainable innovation and support entrepreneurs.
Open innovation
Ideas came from 22 innovation workshops with farmers, businesses, universities, local institutions and citizens. The 182 participants came up with about 400 bio-based product ideas. Experts turned these into 26 business-model concepts.
The project then piloted the seven most promising ones with local SMEs and experts, which resulted in successful products such as beauty products made with leftovers from fruit and herb processing.
The project can help to improve local nutrition, limit emissions from wasted resources and provide sustainable new materials. For example, press cake from walnut-oil production accounts for almost half the walnuts by weight, which SMEs can turn into a nutrient- and protein-rich spread. Another model for producing packaging from apple waste could result in alternatives to plastic products.
Eco-product momentum
In addition to product-development support, publications, social media updates and broadcasts, and events such as the AlpBioEco Virtual Final Public Conference in February 2021, have helped raise public awareness of the potential of the Alpine bioeconomy.
Chambers of commerce, NGOs, universities and other organisations involved in AlpBioEco continue to support SMEs to develop bio-based ideas. Guidance is available in the project's business models and analysis roadmap on the project website.
The AlpBioEco method can be replicated for many different geographies and materials. To support this potential, project partners are planning a follow-up project to apply the AlpBioEco outputs on a larger scale.
Within the Alpine region, an advisory board has been established to decide how to better support SMEs developing eco-innovations.
Beneficiaries
"AlpBioEco helped me to find a solution to revalue apple waste. We developed an innovative semi-finished product to produce natural apple-based cosmetics. I recently founded a start-up and we will launch the cosmetics on the market in October 2021."
– Lorenzo Picco, 26, owner, Magnarosa Farm, Italy
"As a herb grower and producer, I gained ideas and incentives from related value chains – walnuts and apples. I got a great idea from the field of cosmetics and hope to introduce it in my product portfolio soon. The collaboration in the project exceeded all my expectations."
– Jana Bergant, owner, Bonistra d.o.o, Slovenia
Total investment and EU funding
Total investment for the project "AlpBioEco Potentials of Bioeconomy in the Alpine Space" is EUR 2 141 960, with the EU's European Regional Development Fund contributing EUR 1 820 666 through the Interreg "Alpine Space" Cooperation Programme for the 2014-2020 programming period. The investment falls under the priority "Innovative Alpine Space".
Draft date
30/09/2021
Related themes
Technical information
Fund
European Regional Development Fund
Programme
Interreg TN - Alpine Space
Thematic Objective
Strengthen research, technological development & innovation
Programming period
2014-2020
Project duration
02/2018 - 04/2021
Total Investment
2 141 960 EUR
EU Investment
1 820 666 EUR
Contact
Managing Authority
Land of Salzburg (Austria), represented by the Government Office of the Land Salzburg, department 1 for Economy, Research and Tourism, unit 1.1
Südtirolerplatz 11, 5010 Salzburg
Beneficiary
Italian Chamber of Commerce for Germany
Goerdelerring, 5
04109
, Leipzig
Deutschland
Web