Kick-off meeting of the Partnership on Sustainable Land Use and Nature-based Solutions, 13 July 2017, Warsaw
The new round of Partnerships launched within the framework of the Urban Agenda for the EU in summer 2017 completes the list of priority themes presented in the Pact of Amsterdam. One of these four youngest Partnerships is that on Sustainable Use of Land and Nature-based Solutions. On 13 July 2017, the partners from 13 different Member States came together for the first time to give their common multi-level endeavour the right direction for the coming three years.
What was the meeting about?
The Partnership with the longest name also has a vast range of topics to address. Besides getting to know each other, one of the main goals of the kick-off meeting was to engage in first concrete discussions around a topical focus for the Partnership. Poland, represented by the Ministry of Economic Development, and the city of Bologna coordinate the Partnership together.
/futurium/en/file/uaeu-sul-nbs-kickoffjuly17jpguaeu-sul-nbs-kickoffjuly17.jpg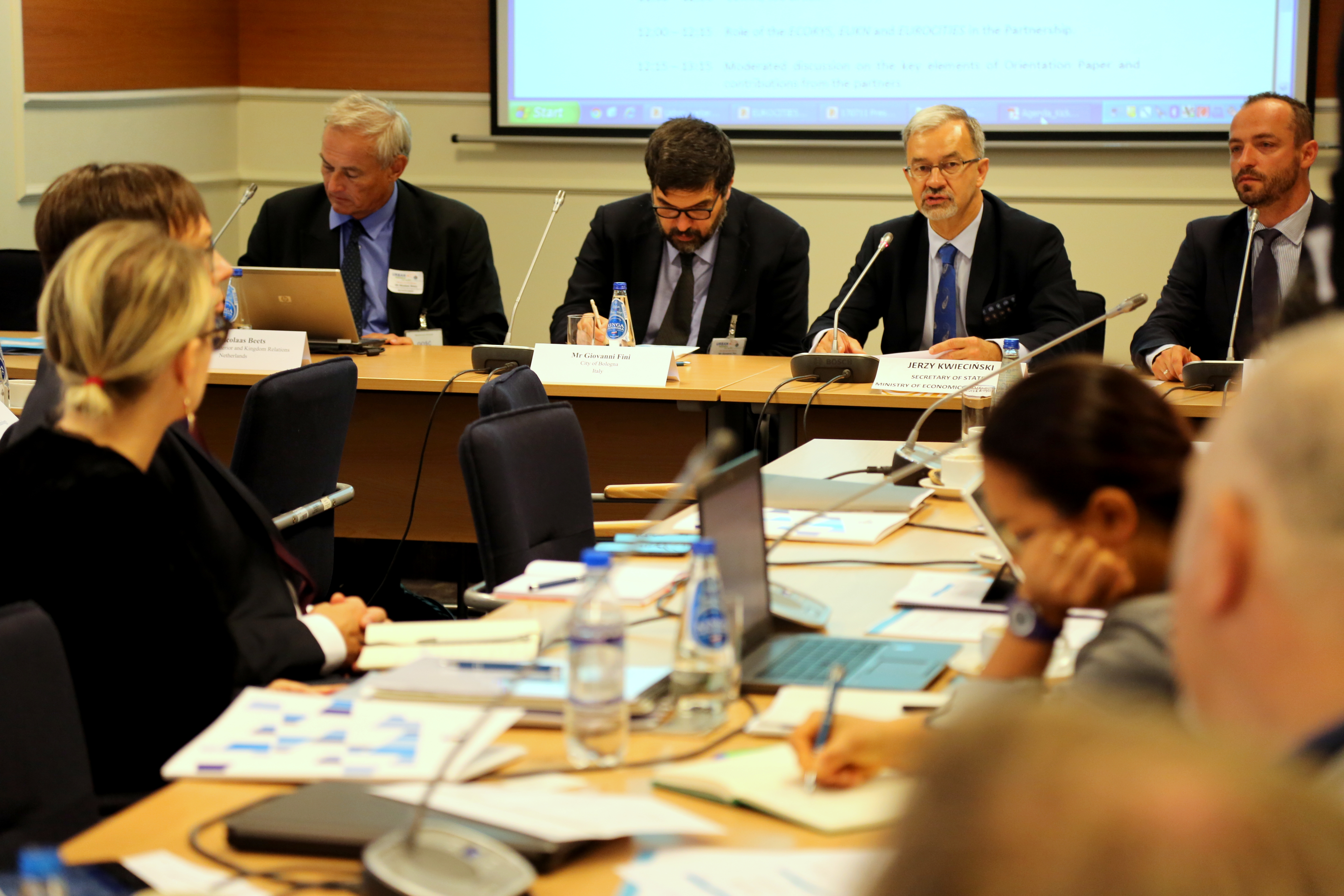 Mr Jerzy Kwieciński, Secretary of State in the Ministry of Economic Development (photo), expressed the hope that Poland's role in coordinating this Partnership would build on the involvement of the numerous Polish cities that are part of established Partnerships. He further stressed that the Partnership presents an opportunity to generate synergies between socio-economic development and spatial planning in policy practice.
Several actors involved in the Partnership process as facilitators, partners or stakeholders presented how they would support the Partnership – among them the involved European Commission's Directorates-General (DGs), URBACT, and the Technical Secretariat, established by Ecorys, the EUKN, and EUROCITIES.
During breakout group sessions, the partners discussed more in depth the overarching goal of the Partnership, the crucial themes to address, and the associated bottlenecks and issues. These break-out group discussions were followed by general feedback sessions.
What's next?
Two important milestones will guide the upcoming months of Partnership work: the preparation of an Orientation Paper by October 2017 and a draft Action Plan to be prepared within a year. During the kick-off meeting, the partners agreed to collaboratively define the general aim and the (sub-)topics to feed into the Orientation Paper.
For news on the Partnership, click the yellow Follow button on the top right of the page and stay tuned via Twitter @EUUrbanAgenda.