About the Innovation Radar Prize 2017
/futurium/en/file/innoradar-logopnginnoradar-logo.png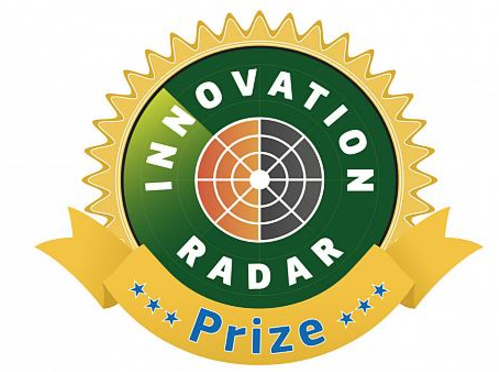 The Innovation Radar (IR) is a European Commission initiative to identify high potential innovations and innovators in EU-funded research and innovation projects. Using the radar, 48 of the best EU-funded innovators have been identified to compete with their EU-funded innovation for the Innovation Radar Prize 2017.
The public was invited to vote for their favourite innovators from among these 48 in a month long public vote that closed on 15 October 2017. On the basis of this vote the 20 finalists who get to compete in the Innovation Radar final were identified.
Nominees are grouped into five categories:
This public vote decided which 4 innovators go forward from each category to the final (the top 4 in each category in terms of votes secured makes the final). The 20 finalists get to pitch their plans for going to market with their EU-funded tech to a jury of experts at the ICT Proposers' Day in Budapest (9 November 2017).
/futurium/en/file/euronewspngeuronews.png

The jury will decide on one winner from each category. From the 5 category winners one overall 'Grand Prix' winner will be chosen by the jury who will be featured on a euronews programme about their innovation and its market potential.
Previous Innovation Radar Prize winners
/futurium/en/file/broadbitpngbroadbit.png
The first ever Innovation Radar Prize was awarded to
BroadBit
, during the 
ICT 2015 event in Lisbon
. Since then, BroadBit, an SME originally from Slovakia but now based in Finland, have raised additional finance to fund expansion and production of their innovative battery technology. Learn more about BroadBit in this 
euronews feature
.
/futurium/en/file/intrinsic-idpngintrinsic-id.png

In 2016 the overall Innovation Radar prize was awarded to
Intrinsic-ID
, a Dutch SME, which developed a unique technology and has become a world leader in security systems. Their technology - authentication technology based on the electronic fingerprint of devices - was developed within the EU-funded project
PUFFIN
. Intrinsic ID are today selling this technology to customers around the world. Learn more about Intrinsic ID in this 
euronews feature
.