About the Innovation Radar Prize 2020
The Innovation Radar (IR) is a European Commission initiative to identify high potential innovations and innovators in EU-funded research and innovation projects. Using the radar, some of the best EU-funded innovators have been identified to compete with their EU-funded innovation for the Innovation Radar Prize 2020 across three categories: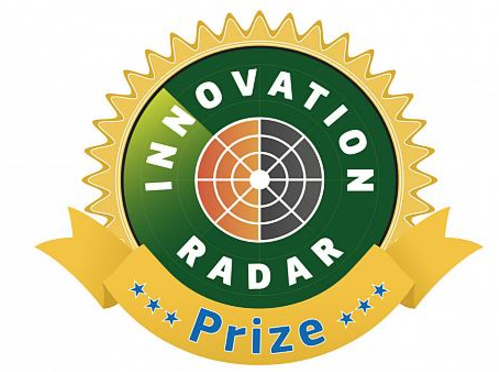 The 12 finalists will pitch their plans for going to market with their EU-funded tech to a jury of experts at the Research and Innovation Days in Brussels (22, 23 and 24 September 2020). 
The jury will decide on one winner for each category. One overall 'Grand Prix' winner will also be chosen by the jury who will be featured on a euronews programme about their innovation and its market potential.
This year's Innovation Radar Prize 2020 is powered by Dealflow.eu, a project financed under the European Union's Horizon 2020 Research and Innovation Programme comprising of H.I.Capital, Deloitte Digital GmbH and Dealroom. As a first step of the competition, Dealflow.eu analysed a long list of high potential innovations developed in EU-funded projects to identify the 12 deserving to compete in the final. Dealflow's experience in the startup, innovation and venture capital fields, gives them n excellent perspective to judge the impact the innovations could deliver in the market. Dealflow.eu will also offer targeted support and help finalists in the preparation of their pitching decks. 
Previous Innovation Radar Prize winners
In 2019, the overall winner was SUPSI from Switzerland for their lead role in developing robotic tech capable of executing repair tasks in harsh industrial environments. They also won the prize for Women-led innovations, which recognises dynamic women developing and leading great innovations with EU-funding. This project is led by Anna Valente, the head of the Automation, Robotics and Machines Laboratory at SUPSI-DTI.
In 2018, the overall winner was Gr3n, a swiss company who invented a new process which allows for the first time to recycle PET bottles/food containers chemically in a profitable way. The objective is now to build the first pilot plant of the full de-polymerization process, designing and building a new reactor prototype but also embedding it within an optimized purification process. This will be the final step to then finalize the industrialization and bring to the market this revolutionary re-cycling solution.Learn more about Gr3n in this euronews feature. 
In 2017 the overall winner was CATEC, a Spanish Aviation research centre, for industrial drones they developed with EU funding. Their drones can not only allow "see" from the air, but also "touch and feel". The CATEC drones – which integrate a robotic arm, advanced software and state-of-the-art sensors - open up new possibilities for performing industrial inspections that require contact. Learn more about CATEC in this euronews feature.
In 2016 the overall Innovation Radar prize was awarded to Intrinsic-ID, a Dutch SME, which developed a unique technology and has become a world leader in security systems. Their technology - authentication technology based on the electronic fingerprint of devices - was developed within the EU-funded project PUFFIN. Intrinsic ID are today selling this technology to customers around the world. Learn more about Intrinsic ID in this euronews feature.
In 2015 the first ever Innovation Radar Prize was awarded to BroadBit, during the ICT 2015 event in Lisbon. Since then, BroadBit, an SME originally from Slovakia but now based in Finland, have raised additional finance to fund expansion and production of their innovative battery technology. Learn more about BroadBit in this euronews feature.