Year of publication:
2017
We report on the FoCAS FP7 FET-Proactive initiative. A FET project with the same name, FoCAS, was in charge of coordinating the different projects of this initiative to deliver on their success stories and impacts.

Good community-building activities lie at the heart of a coordination action"  according to Emma Hart, coordinator and Jennifer Willies, project manager of the FoCAS Coordination Action which ran for three years with a significant number of collaborative activities.  The FET FoCAS Proactive Initiative funded seven projects, each contributing to the theoretical foundational framework for collective adaptive systems (CAS). FET also supported the FoCAS coordination action to integrate and strengthen collaboration between project partners to help increase visibility for their research, and others in CAS-related fields.  FoCAS adopted other projects and eventually extended its reach over a total of 14 CAS projects funded by the EC or national funding agencies. 
A large number of integrating activities were organised to bring researchers together to share ideas and help gauge the impact of their research.  Seven peer-reviewed workshops were held and 40 other activities including sponsoring speakers, best paper awards, student travel bursaries and a range of networking events.  Coordination Action partners adopted a travelling salesman approach to extend awareness of CAS research to a broader community, giving 85 national and international talks over three years.  A Special Issue on Collective Adaptive Systems was produced for the Scientific International Journal for Parallel and Distributed Computing following the second FoCAS workshop at SASO 2014. FoCAS helped to strengthen ties and create a strong, cohesive and active community of researchers with a clear CAS identity.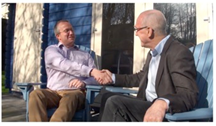 FoCAS also organized showcase events to provide a useful interface between scientists and the science-aware public, helping to identify how collective adaptive systems will impact on society.   A public talk entitled "Can robots evolve?" with Alan Winfield and Jon Timmis was organized for the Edinburgh International Science Festival drawing a sell out crowd. Talks and demonstrations at science cafes and networking sessions were arranged to discuss ethical, legal and social implications of CAS. 
FoCAS video conversation between Jon Timmis  and Alan Winfield
The website provided a useful window on CAS research via the FoCAS Media Lounge with its Reading Room, presenting articles from various science journalism sources and together with articles especially commissioned by the coordination action. The Perspectives on Collectives video series offered a multi-media, one-page web place for short researchers' video interviews with supporting links and documents.  Additionally, 56 slide presentations and 108 short video interviews and documentaries were made available.
With its 325 separate webpages, the FoCAS website integrated public dissemination for project news and events and 69,000 web page views from 28,000 unique visits were generated.   In addition eight newsletters were produced by the coordination action, highlighting FoCAS project news and 30 informative e-bulletins were sent to a circulation list of 400.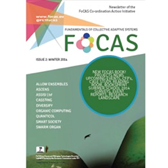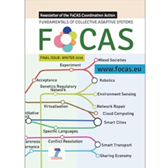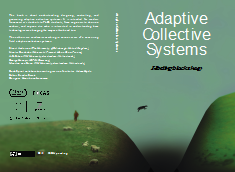 Inspiration and encouragement was given to early-career CAS researchers through best-paper awards, workshop travel bursaries, and a summer school.   European-based students were sponsored for three doctoral symposia held at major conferences (two in USA).    A book called Herding Black Sheep about understanding, designing, controlling, and governing adaptive collective systems was produced in a five day book sprint. All materials produced are still available online via the FoCAS website.
To provide a searchable and evolving living textbook with a collection of curated material about collective adaptive systems,  the FoCAS tablet App  (IOS and Android) was developed and material was generated, collated and tagged during another sprint activity involving a range of researchers from the CAS community.
Defining the CAS research landscape and future directions was developed in a series of meetings, workshops and online activities including gathering 64 Video Opinions supplemented by 120 identified research challenges and 100 research paper reviews as well as 32 consultative meetings and events.  A landscape visualization was also created in conjunction with the FoCAS projects.  This process provided a collaborative approach to defining the FoCAS Research Manifesto representing a wide body of opinion collated over three years.
FoCAS bonding and relay missions provided a useful international perspective to the FoCAS roadmapping outcomes. A process to engage key research organisations and individual scientists worldwide was developed to link European CAS research effort with international counterparts. More than 150 contacts worldwide were clustered them around FoCAS topics, and global CAS mapping was carried out.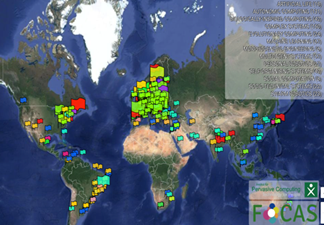 The FoCAS Video Sprint, was the concluding inter-project workshop for the seven original FoCAS projects, organized to assess how project research had contributed to the original aims identified by FET for the FoCAS Proactive Initiative; in particular to define what new functionalities and new insights for collective adaptive ICT systems had been developed.   In addition the projects assessed the target outcomes anticipated by FET, that is Operating Principles by which CAS can operate, Design Principles necessary to build and manage CAS, and Evolutionary Properties concerning the evolutionary nature of CAS, to show what contributions their research had made in these areas.  A collaborative project video was produced as well as a FoCAS Metro Map giving a snapshot overview showing where project research intersects.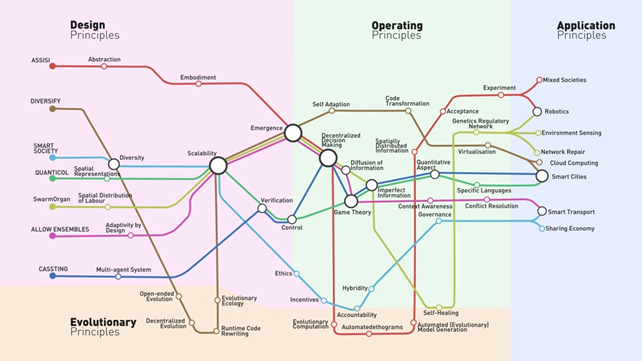 FoCAS Metro Map
The FoCAS Coordinaton Action supported FET-funded projects ALLOW ENSEMBLES, ASSISI | bf, CASSTING, DIVERSIFY, QUANTICOL, SMART SOCIETY and SWARM ORGAN and also adopted ASCENS, Organic Computing, ASAP, COLLMOT, COCORO, FLORA ROBOTICA and subCULTron.   Information and project videos available at the FOCAS Community page.
The FoCAS CA was coordinated by Edinburgh Napier University with partners from Imperial College London,  Vrije Universiteit Amsterdam, Università di Modena e Reggio Emilia, Johannes Kepler Universität Linz.