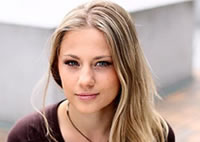 I am very honored to represent my country as a Youth on the Move ambassador. Lithuania has been strongly affected by the recent changes in the global economic climate, and it is hard for many young Lithuanians to sustain themselves financially while still utilizing their full potential.
I strongly believe that getting experience from work and studies abroad and applying that experience back home is crucial in improving these conditions.
My own experience as a student in the UK gave me valuable insight and perspective that I could have never gotten had I not lived abroad, and I feel that this has made me much more equipped to handle professional challenges in an increasingly globalized economy, and I also feel that it has given me a wide array of additional skills and knowledge that is useful in my own country. I wish that as many other young Lithuanians as possible should have the same opportunities that I had, and I believe that Youth on the Move will aid them in making this happen. I am proud to now be a part of this initiatíve.
---
Man didele garbe atstovauti savo šaliai kaip iniciatyvos "Judus jaunimas" ambasadorei. Dabartinis pasaulio ekonomikos nuosmukis labai paveike Lietuva, todel daugeliui jaunu lietuviu sunku susikurti finansine gerove ir drauge kuo geriau išnaudoti savo galimybes.
Tvirtai tikiu, kad padetis taptu geresne, jei griže i tevyne pritaikytume dirbant ir mokantis užsienyje igyta patirti. Pati studijuodama Jungtineje Karalysteje
igijau vertingos patirties ir žiniu, kuriu nebuciau gavusi, jei nebuciau išvykusi pagyventi i užsieni.
Manau, kad del to dabar esu labiau pasiruošusi iveikti del globalizuotos ekonomikos kylancius profesinius sunkumus ir igijusi papildomu igudžiu ir žiniu, praversianciu mano šaliai. Linkiu, kad tokiomis galimybemis galetu pasinaudoti kuo daugiau kitu Lietuvos jaunuoliu, ir neabejoju, kad iniciatyva "Judus jaunimas"
pades jiems tai padaryti.
Didžiuojuosi tuo, kad dabar esu šios iniciatyvos dalyve.
---
Interview with Rasa Bubulyte