The infographic below looks at the euro notes and coins in Lithuania and the world:

You can learn more about the euro, the Lithuanian euro changeover and Lithuania's current economic situation on our website.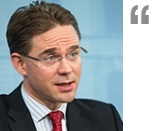 Lithuania's euro adoption also underlines the vitality of the Economic and Monetary Union, which remains an attractive community to be a part of. The euro area today coordinates economic policy more effectively; it has a robust financial firewall to safeguard stability and the gradual creation of a banking union.
- VP Katainen, Euro conference Lithuania, September 2014
Read full speech: VP Katainen at Euro conference Lithuania
To see what Lithuanians think about the euro changeover: