The infographic below highlights just a few of the reforms introduced in Spain, Italy, Portugal and Greece, their results and estimated impact:

Data taken from: Market Reforms at Work in Italy, Spain, Portugal and Greece
Structural reforms improve an economy's flexibility and increase the efficiency of how and where productive factors are used.
Indicators measuring the overall regulatory environment show that Greece and Portugal are among the largest reformers: between 2008 and 2013, the two countries led the reform effort according to the OECD Product Market Regulation indicator.
Italy and Spain, that started from a more favourable regulatory situation, also improved their regulatory environment over the same period.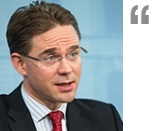 Without real reforms, effectively implemented, we will not have sustainable growth and job creation. No country is immune from the need to reform. Our challenge is how to use the existing economic governance framework more efficiently to support the adoption and implementation of structural reforms by Member States.
- VP Katainen, Eurogroup meeting in Milan, September 2014
Read full speech: VP Katainen at Eurogroup Press Conference
For more information about the four countries' economic performances: