National results
Source: Spring 2014 Standard Eurobarometer survey


Europeans are clearly in favour of the euro
At least three-quarters of respondents are for the euro in Estonia (80%), Slovenia (79%), Luxembourg (78%), Belgium (78%), the Netherlands (76%), Finland (76%) and Germany (75%).
The only countries where the majority opposes the euro are Sweden (77%), the United Kingdom and the Czech Republic (both 73%), Denmark (66%), Poland (47%, vs. 37% "for") and Bulgaria (42% vs. 41%): none of these six countries currently belong to the euro area.
55% of all EU citizens are in favour (+3 percentage points since the Standard Eurobarometer survey of autumn 2013, EB80). Conversely, 36% are opposed (-5).
Support trend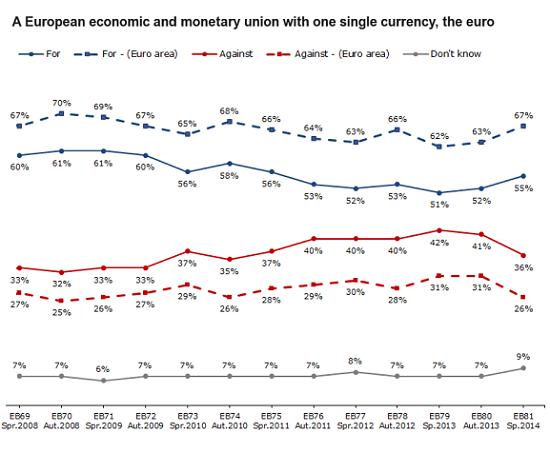 The support index is the difference between the proportion of "for" answers and the proportion of "against" answers.
The support index for the euro has increased significantly since autumn 2013 (from +11 to +19). This 8-point increase of the support index is the largest since the Standard Eurobarometer of spring 2002(EB57), conducted a few months after the single currency entered into circulation (+11 increase, from +31 in autumn 2001 to +42 in spring 2002).