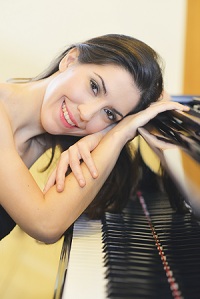 Statement
I always admired open minded people. People who had a quality to accept and adopt values from other cultures and who could think out of their own cultural box.
My experience of living and studying abroad has transformed me into a citizen of the world. I believe that every young person should be encouraged to have a richer multicultural exchange, something that is only possible when one is on the move. Therefore, I consider myself as priviledged to be Croatian Ambassador in the Youth on the Move campaign.
---
---
Bio
Tamara Gal is a young and prospective Croatian pianist. She has been playing the piano since the age of seven.
During her education she has won numerous prizes at both international and national competitions. Through a student exchange program, she spent one year at the prestigious Franz Liszt Academy in Budapest. After graduating from the Music Academy in Zagreb she continued her education in specialist study programme. Ms. Gal regularly performs as a soloist and chamber musician and has collaborated with the Zagreb Philharmonic Orchestra conducted by Vjekoslav Šutej. She has appeared in Slovenia, Germany, Austria, Serbia, Hungary, and England, where she held her own piano master class.
Apart from being a successful musician she has also taken part in charity work following in the footsteps of her late father. She has worked in summer camps for children organising musical workshops, both in Croatia and abroad. After her father's death she has organised several humanitarian concerts in colaboration with her brothers Filip (a guitar player) and Tin (a piano player).
She would like to travel and give concerts all over the world combining humanitarian work and music in hope that it would encourage young people to use their talents in a way that will help the others.