Upgrades to Warsaw Airport increase capacity, comfort and safety
The project to construct, expand and modernise infrastructure at Warsaw Chopin Airport involved upgrades to landside and airside infrastructure including terminal buildings, taxiways, runways, aprons, a railway siding equipped for unloading aviation fuel and a pipeline for carrying fuel. This should increase capacity thus enabling the airport to handle higher traffic volumes at peak hours while improving standards of service and safety.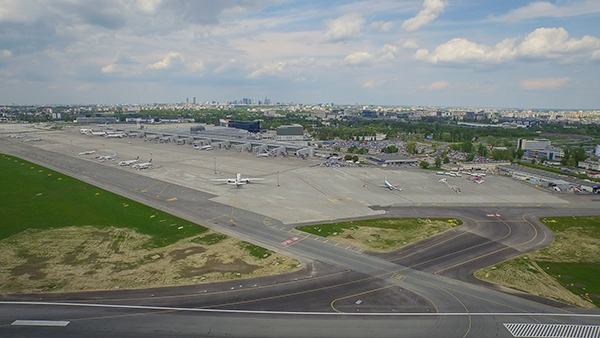 Aerial view of Warsaw Chopin Airport ©Polish Airports State Enterprise
" Investments at Chopin Airport led to an increase in capacity and security, making it a modern airport prepared for the expected growth in air traffic in the coming years. Funding from the EU has contributed to the improvement of the trans-European transport network, of which Chopin Airport is part, but has mainly benefited passengers who use the modern and comfortable infrastructure of our airport every day. "
The airport's old terminal was modernised and integrated with the new one, turning them into a single, functionally and architecturally coherent unit covering 67 000 m². The number of check-in and security control desks was increased, and a storey of office space and a meeting area on a covered patio was added, all of which has improved passenger comfort and safety.
Construction and modernisation of taxiways, the upgrading of runaways, the reconstruction of aprons and the installation of a railway siding for unloading fuel and long-range pipeline have reduced flight delays, thus cutting congestion, CO2 emissions and noise.
An observation deck and underground tunnel
An observation deck, which is open to the public, and a 60 m underground tunnel connecting the departures zone with the airport railway and bus stations were also built under the project. Both are adapted to the needs of people with disabilities and these provisions have led to the airport being awarded a certificate in recognition of this.
Panels with photovoltaic cells were installed and now cover 80 % of the terminal roof (7 000 m²) and in ideal conditions meet 20 % of the airport's daily electricity requirements. The airport's photovoltaic plant produces nearly 575 megawatt hours of energy a year.
Tackling delays and improving service
At the outset of the project, analysis of the capacity of airside and landside infrastructure elements at peak times showed that passenger numbers would soon exceed capacity in certain areas. Failure to invest would increase delays and reduce the standard of service.
By increasing Warsaw Airport's capacity to handle 10.4 million passengers a year, and 1 800 passengers and 46 operations an hour at peak times, the project has enabled it to maintain its important strategic position in the Polish civil aviation market. The number of passengers is growing constantly and the indications are that this will continue in the years to come, making capacity adjustments essential.
Integration of the two terminals has improved passenger and baggage flows and increased comfort. Adapting the infrastructure to meet technical standards, including International Civil Aviation Organization requirements, has made the infrastructure more sustainable and increased the safety of flight operations. The railway siding for fuel encourages competition and diversification in the field of aviation fuel supply, thus enhancing the airport's competitive position.
Total investment and EU funding
Total investment for the project "Warsaw Airport – Construction / expansion / reconstruction (modernisation) of airport infrastructure" is EUR 166 760 000, with the EU's Cohesion Fund contributing EUR 32 900 000 through the "Infrastructure and Environment" Operational Programme for the 2007-2013 programming period.
Draft date
09/09/2016