Urban regeneration brings hope to Italian town
Bari is a large town with a population of about 320 000, situated in the Puglia region on the south east Adriatic coast of Italy. The Bari programme, part of what is known as the URBAN Community Initiative set up to target neighbourhoods in extreme deprivation, was recently able to breathe life back into the oldest and one of the most run-down parts of Bari, the port area of the Bari Vecchia, home to around 8 000 people.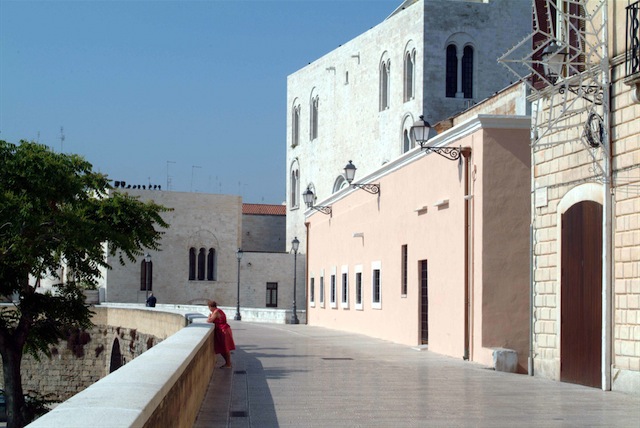 Locals out enjoying the revamped port area of Bari ©Locals out enjoying the revamped port area of Bari
" My experience with the URBAN project has been fully positive: the financing available thanks to the project gave me the chance to open an individual enterprise which brings out my abilities after years and years of work experience in other firms. "
By developing new economic activities, providing customised training for certain social groups, improving social services and regenerating public places, the programme has had an impact not only on the town itself but also on the whole region creating a blueprint for development.
New life to run-down areas
The URBAN Community Initiative typically addresses problems of isolation, poverty and exclusion through a package of projects that combine the rehabilitation of obsolete infrastructure with economic and labour market actions. These are complemented by measures to combat social exclusion problems in run-down neighbourhoods, and measures to upgrade the quality of the environment.
The Bari project itself aimed to support new economic activities through the development of a craftwork sector, a new tourist sector and the provision of new accommodation for university students. These economic activities helped create new employment opportunities for local people in support of other actions included in the URBAN programme.
The Bari-Urban programme also led to improvements in public services. Two public buildings housing social services were renovated: one in Largo Annunziata and the Biblioteca della mendicità. Crime prevention and public safety have been improved by the upgrading of street lighting, as well as the addition of three new "24 hour" centres run by volunteers.
More than a place of transit
Until very recently Bari was little more than a transit hub for visitors, a place to pass through en route to somewhere else. The renovation of the local surroundings, however, is being used as a way of encouraging more people, not only from Bari itself, but tourists from further afield, to visit the previously run down Bari Vecchia area.
Public places and areas of architectural interest have been given a well-needed facelift. A case in point is the Palazzo del Sedile, a private historical building that once hosted the city hall, whose Clock Tower has been completely refurbished. In addition to this, Fortino Sant'Antonio, a Middle Age fortified building, has been completely renewed and transformed into one of the most sgnificant structures dedicated to cultural and leisure events. Together these activities under the Bari – Urban project have all gone towards turning around a once severely deprived and run-down area.
Draft date
17/12/2009
Related themes
Technical information
Programme
Operational Programme 'Puglia'
Thematic Objective
Promoting social inclusion & combating poverty
Programming period
2007-2013
EU Investment
8 190 000 EUR