New mobile app guides players through Sicily's cultural heritage
Sicily Histories is an app which combines storytelling with gaming to help users explore the island's rich history. It can be downloaded to mobile devices such as smartphones and tablets. The goal is to give visitors to Sicily an immersive experience that goes beyond simply reading guide books and visiting historic sites.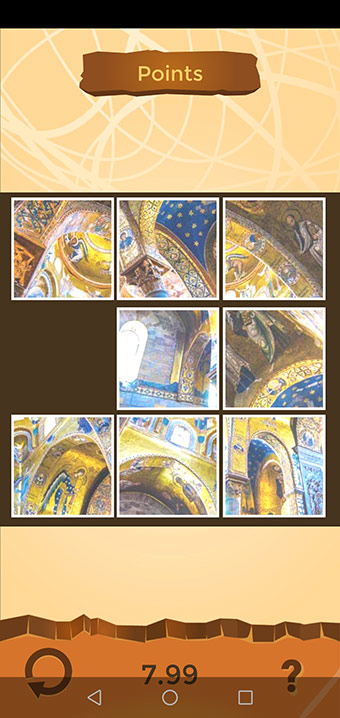 Puzzle game ©Hi.Stories srl
" Sicily Histories was released in store last August and, in the first two months, counted more than 2 000 downloads. From online reviews, the product is appreciated, and also local and national newspapers (artribune, travelnostop etc) have shown appreciation for the project, which is a novelty in the field of cultural enjoyment in Sicily. "
The geolocation app contains dozens of points of interest (POIs) that correspond to sites of historical and cultural significance. Visitors can use the app's database to retrieve information about each site, as any traditional guidebook would provide. More than that, Sicily Histories offers an interactive experience through the use of augmented reality – available from early 2019 – and small gaming activities. Gaming rests on providing not just useful information, but also an adventure. Characters and plots created for the app connect POIs from the same historical periods across the island. Users must complete missions by solving puzzles and augmented reality challenges.
At each POI, the gamer can win a prize that can be used during their holiday or stay. The prizes are discounts and promotions which can be spent on local crafts. The project team is also hoping to make a deal with local authorities to provide users with reduced entry fees at local museums.
Expert knowledge
The project team devised the storytelling scenarios using information written by authorised Sicilian tour guides. They have drawn on the island's rich and diverse history, which includes the Roman, Norman, Arab and baroque periods.
The app is compatible with both Android and iOS systems. Care has been taken to ensure that Sicily Histories can be enjoyed by everyone who can use a smart device – it is not necessary to have advanced digital skills to work the app. POIs provided through the game can be added to and bought in bundles at app and Google stores.
The technology is replicable and, in future, could be harnessed by other tourist destinations in Italy and across Europe.
Total investment and EU funding
Total investment for the project "Sicily Histories - Explore, learn, play and win" is EUR 46 536, with the EU's European Regional Development Fund contributing EUR 46 536 through the "Culture" Operational Programme for the 2014-2020 programming period.
Draft date
21/02/2019
Related themes
Technical information
Fund
European Regional Development Fund
Operational programme
Culture - ERDF
Thematic Objective
Access to and use of information and communication technologies (ICT)
Programming period
2014-2020
Project duration
08/2017 - 07/2018
Total Investment
46 536 EUR
EU Investment
46 536 EUR
Contact
Managing Authority
Ministero dei beni e delle attività culturali e del turismo -Segretariato generale, Servizio V - Contratti e attuazione programmi
Via del Collegio romano, 27 - 00186 Roma
Beneficiary
HI.STORIES SRL
Corso Italia 122
95039
, Trecastagni
Italia
Web