Monitoring the EU's urban traffic via the Internet of Things
Using the Internet of Things (IoT), the EU-funded IOT_TOI project developed specific tools for monitoring and controlling traffic in urban areas like Turin in Italy's Piedmont region.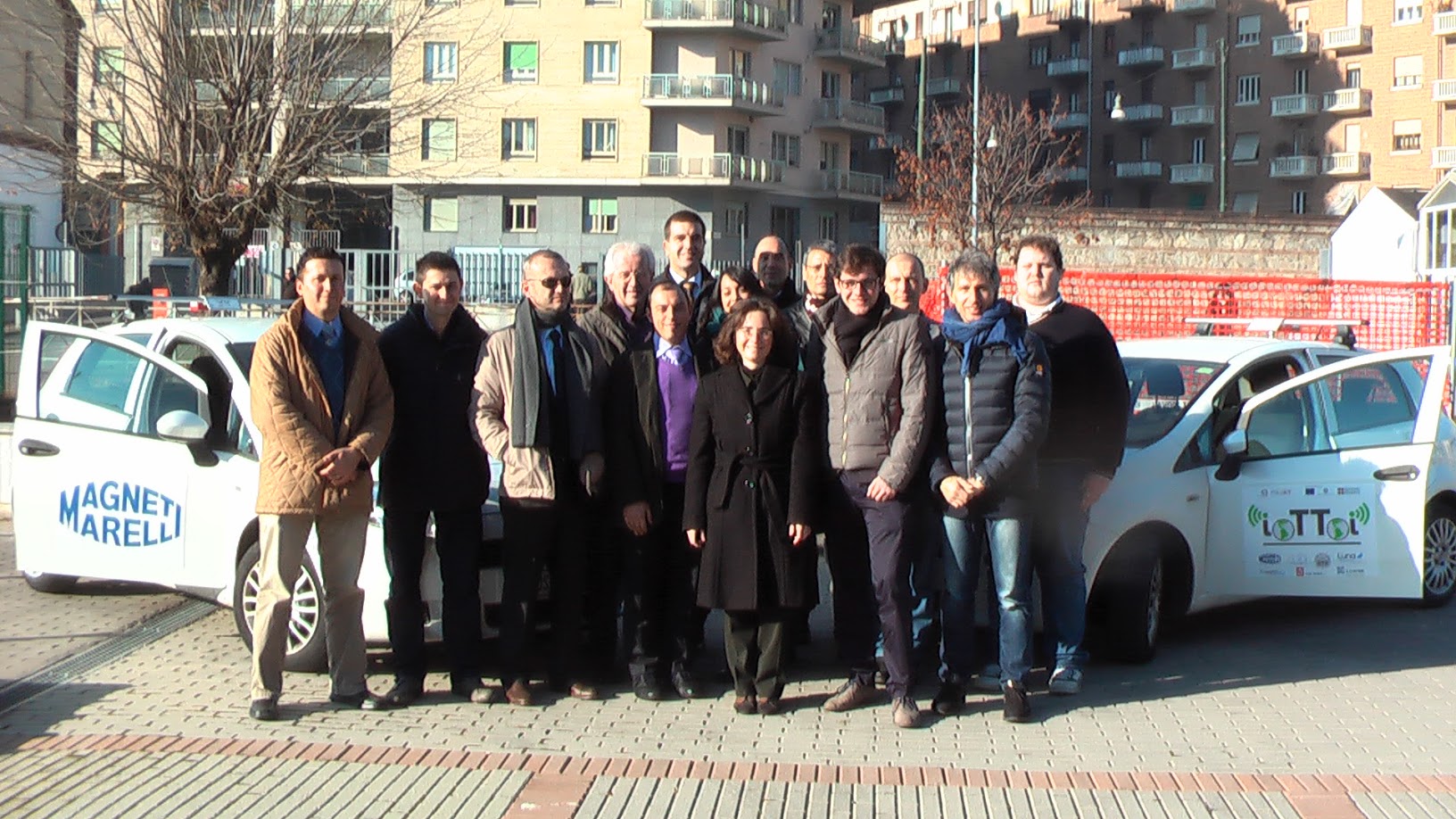 The project team stands in front of an IoT_ToI equipped vehicle. ©Magneti Marelli S.p.A 2013
" "The project team had previously worked on several other national and European projects concerning the problems of pollution and safety. The IoT_ToI project allowed us to expand this experience by providing a chance to use innovative technologies like V2X for vehicles and road infrastructure, together with IoT, video monitoring and pollution sensors." "
The IOT_TOI project set out to harness the benefits of emerging technologies to find an efficient solution for monitoring and controlling traffic jams and pollution and improving driver safety. For the former, it used the IoT, while for the latter it opted for Vehicle-to-Everything (V2X) communication.
Using a network of mobile data-collecting stations dispersed across a city to monitor and control road traffic and pollution levels, it provided meaningful support on issues including pollution monitoring, traffic control, mitigating road violations, improving safety and assisting with parking.
The IOT_TOI system
The Internet of Things is a network of physical devices, vehicles, home appliances and other items in which electronics, software, sensors, actuators and network connectivity are embedded in order to connect and exchange data with each other. V2X communication concerns the passing of information from a vehicle to any entity that may affect the vehicle, and vice versa.
The IOT_TOI system uses sensors installed on both moving vehicles and fixed devices, such as video cameras and parking sensors. Each of the system vehicles also includes a specially designed V2X communication board. All data collected by a sensor are sent to a data control and processing centre for analysis. Once analysed and compared to information coming from other sensors, the data centre then communicates this back to the vehicles located within the monitoring area. Here it can be used, for example, to monitor the occupancy rate of public parking spaces or to improve the flow of traffic on a given road.
The project's achievements include: a full analysis of problems concerning vehicle and infrastructure data communication; design and implementation of an ad-hoc communication platform and supporting protocols; design and implementation of specific algorithms for surveying an external area (e.g. to check for parking availability and queues, stationary vehicles, traffic light status and traffic information in general); Design and implementation of a vehicular demonstrator for collecting and managing a range of data about vehicles, roadside units and environmental sensors.
Making a big impact
Although conducted as a pilot project, the project's results have clearly demonstrated the many benefits that the IoT_ToI system could provide for public transportation operators and parking administrators. As a result, several municipalities across the Piedmont Region are now testing its use with the aim of creating safer, more efficient travel for drivers across the region and beyond.
Total investment and EU funding
Total investment for the project "Internet of Things - Road-Traffic over Internet (IOT_|_TOI)" is EUR 1 351 874, with the EU's European Regional Development Fund contributing EUR 709 384 through the "Piemonte" Operational Programme for the 2007-2013 programming period.
Draft date
12/10/2018
Related themes
Contact
Managing Authority
Beneficiary
Magneti Marelli S.p.A.
Viale Carlo Emanuele II 150
10078
, Venaria Reale (TO)
Italia
Web