Increased energy efficiency at Dutch and Flemish monuments
Europe's rich history is reflected in its wealth of monuments and historic structures, but high energy costs are a barrier to the exploitation of this heritage. Implemented in the provinces of Antwerp, in Belgium's Flemish Region, and North Brabant in the Netherlands, the "Demonstration of energy efficiency by measurement and innovation gives more" (DEMI MORE) project applies new techniques to make monuments more energy efficient and support sustainable energy generation.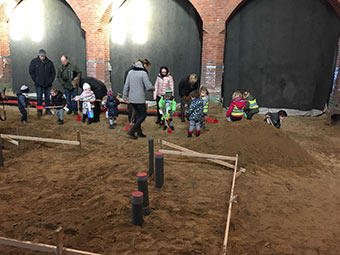 Children getting involved in sustainability works ©DEMI MORE
" By giving our architectural heritage a sustainable redesign and thus making a useful contribution to our society, you ensure its preservation. However, high energy costs can throw a spanner in the works. DEMI MORE addresses this problem by using innovative techniques to make a monument more energy efficient or to allow it to produce its own green energy. In this way, the operating costs are reduced and a monument becomes more interesting for new purposes. "
Six monuments of various kinds, including churches, castles, industrial sites and houses, have been chosen to demonstrate energy saving and green energy production techniques. Practical application of the measures is intended to convince stakeholders to invest in their roll-out.
DEMI MORE also contributes to the elaboration of sustainability certification, specifically for historic monuments that can be incorporated into the existing BREEAM Refurbishment and Fit Out (BREEAM RFO) international sustainability standard.
Overcoming poor energy performance
Until recently, heritage policy was mainly focused on preserving buildings, leading to the restoration of many empty structures. However, truly sustainable preservation necessitates repurposing such buildings for contemporary use. The poor energy consumption performance of historic monuments – due to their construction materials, their size and the difficulty of installing insulation – is a barrier to this, particularly given modern heating and cooling requirements.
In light of these issues and ambitious EU clean energy and energy efficiency targets, the heritage sector needs to promote energy efficiency and renewable energy use in a way that takes into account the characteristics of historic buildings.
Through measures like installation of ultra-thin insulation materials originally developed for space exploration and aesthetically pleasing integration of solar panels into buildings, DEMI MORE makes repurposing easier, thereby helping preserve architectural heritage and directly linking preservation with use. The project's focus on innovation helps arouse interest in little-known and expensive applications, which often has the effect of lowering prices.
Development of a BREEAM RFO standard specifically for monuments makes it possible to evaluate the sustainability of restoration work and compare it with the energy consumption, material use, transport and waste in the renovations of regular buildings. Research shows that even for monuments that are subject to restrictive renovation conditions, the differences are not that big.
Documenting impacts
The entire process at each of the six monuments is supervised by a team of experts who monitor the impact of the techniques via assessments, one of which is performed at the beginning of the demonstrations and another at the end. Interim results are announced at public information events, study days and conferences. The final outcomes and knowledge gained will be published in a handbook, which will be made available to the public. Furthermore, a film will be produced detailing the process followed for each monument.
In addition, DEMI MORE has been presented at workshops for professional sectors including heritage, architecture and engineering, and national conferences in Belgium and the Netherlands. It was also showcased at the 2018 EU Sustainable Energy Week in Brussels with a view to encouraging the launch of similar initiatives in other countries.
Total investment and EU funding
Total investment for the project "DEMI MORE" is EUR 2 864 585, with the EU's European Regional Development Fund contributing EUR 1 432 292 through the "Interreg V-A - Belgium-The Netherlands (Vlaanderen-Nederland)" Operational Programme for the 2014-2020 programming period. The investment falls under the priority "sustainable energy".
Draft date
21/02/2019
Related themes
Contact
Managing Authority
Provincie Antwerpen - Autonoom Provinciebedrijf Provinciaal Secretariaat Europese Structuurfondsen
Koningin Elisabethlei 22, B-2018 Antwerpen
Beneficiary
Kempens Landschap
Peredreef 5
2580
, Putte
Belgique - België
Web