Reconstruction of an alpine meadow house: an independent shelter for hikers in France
This project to rebuild an alpine meadow house in La Grave, in the French Alps, has resulted in the creation of a 34-place shelter for hikers that is energy self-sufficient.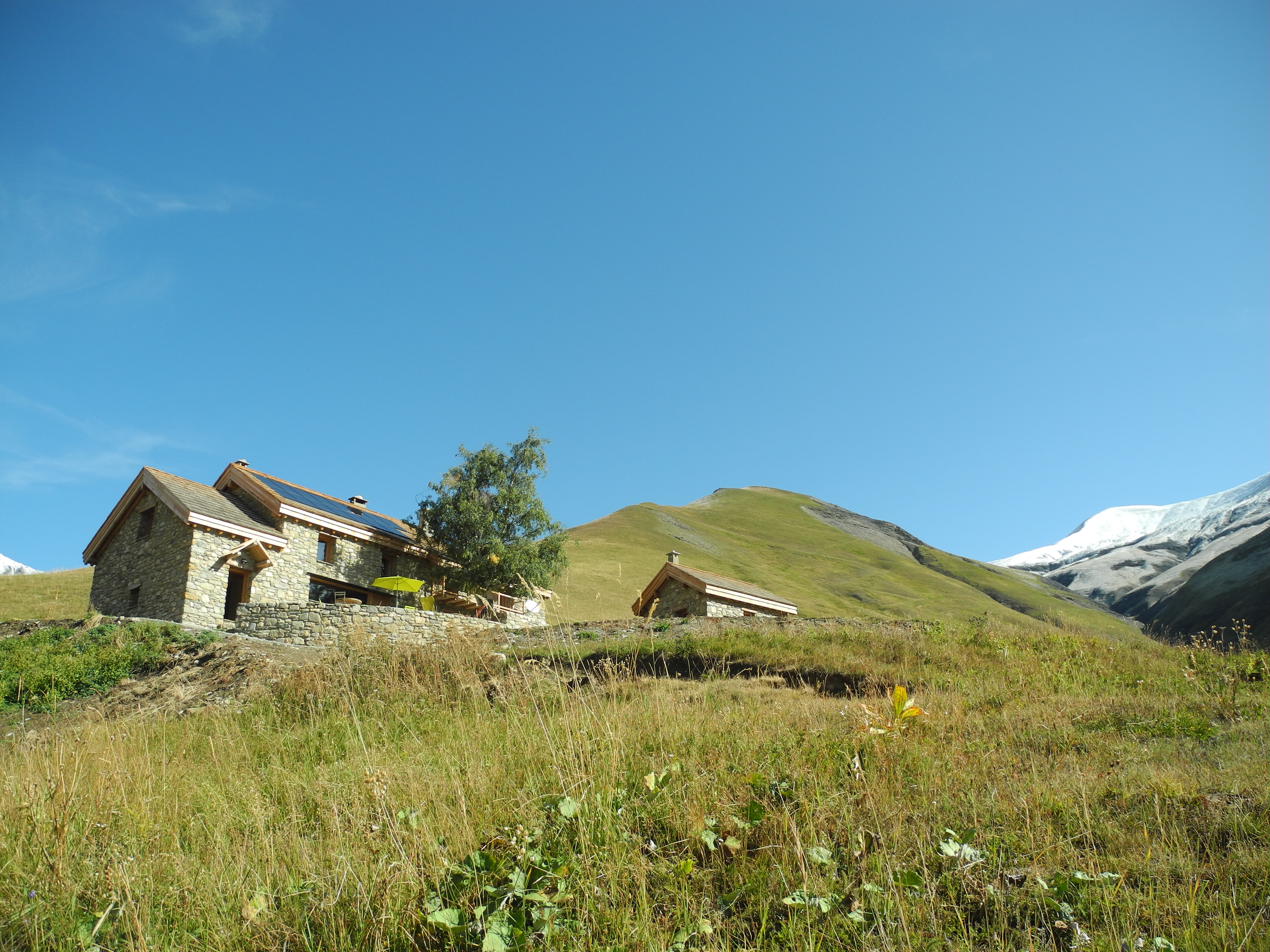 Shelter at the Pic du Mas at La Grave ©Denis Lavenant
" The spirit in which we want to welcome people is first and foremost by offering them a certain level of comfort, a quality welcome, and respect for the environment. We also want to support local economic development, which is why our catering service works with local producers. "
This project has made it possible to make an identical reconstruction of an old sheepfold located in the commune of La Grave, in the French Alps. Denis Lavenant bought the ruins and had the building rebuilt so that it would be as energy self-sufficient as possible.
In winter, the shelter welcomes cross-country skiers and snowshoe walkers, and in summer, more of a family clientèle. An ideal starting point for day hikes, it's also the perfect stop-off point when climbing the peak of Mas de la Grave (3021 m), which offers one of the most beautiful viewpoints in the Alps.
Energy self-sufficient
The reconstruction took place over two seasons. Work began in May 2016 and was completed in July 2017. The building has been completely rebuilt and is almost energy self-sufficient: a water source has been harnessed, an autonomous purification system has been installed, a solar photovoltaic system provides electricity to the building, and solar panels provide hot water and supply "central heating"; wood stoves are used for this. Local contractors and craftsmen have been selected to carry out this work.
Cosy accommodation and local cuisine
The south-facing shelter is located on a small promontory overlooking the Vallon de la Buffe. It offers a breathtaking view of the famous north face of the Meije, which rises to 3 983 m. This site is classified as Natura 2000. The eight alpine meadow areas are managed by 14 farmers who maintain extensive agro-pastoral practices. These magnificent alpine meadows also host tens of thousands of sheep under transhumance, coming from the south of the department and the Alpes-de-Haute-Provence.
The shelter opened in the summer of 2017. It offers accommodation for 34 people in small dormitories with four berths and a catering service based on local products. The spacious common room is lit by a large bay window that offers unforgettable sunsets over the north face of the Meije. A training room can accommodate groups of up to 12 people for courses, training, meetings or seminars. The shelter is equipped with a Finnish sauna heated with wood. Located just a few metres from the main building, a small winter shelter with six beds, a wood stove, a gas cooker and crockery is permanently open when no caretaker is in residence.
Around the shelter, more than two hectares of pasture can accommodate donkeys, mules and horses. It is also possible to recharge electric mountain bikes on site thanks to the photovoltaic sensors installed to ensure the shelter is self-sufficient in energy terms.
The project has created two jobs and boosted tourism in the municipality of La Grave. The shelter is open in February-March and from mid-June to mid-September.
Total investment and European funding
The "Reconstruction of an alpine meadow house – creation of the Pic du Mas de La Grave shelter" has received a total investment of EUR 700 000; the European Regional Development Fund contributed EUR 100 000 under the "Alps Interregional Programme" cooperation programme for the 2014-2020 programming period. The investment falls under the priority "Union and Climate".
Related themes
Contact
Managing Authority
Conseil Régional Provence Alpes Côte d'Azur
27, place Jules Guesde - 13481 Marseille cedex
Beneficiary
Refuge du Pic du Mas de La Grave
Le Chazelet
05320
, La Grave
France
Web