6th Annual Forum of the EU Strategy for the Adriatic and Ionian Region (EUSAIR)
19/04/2021
The 6th Annual Forum of the EU Strategy for the Adriatic and Ionian Region (EUSAIR) will take place virtually on 11-12 May 2021, jointly organised by the Republic of Slovenia, the European Commission and with support of the Facility Point.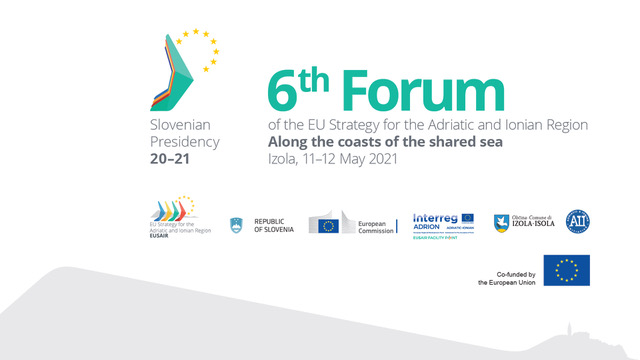 Green politics have been among the four priorities of Slovenia's EUSAIR Presidency and it comes with no surprise that the Forum will be brought into line with it. Themed Along the coast of the shared sea, the Forum will open discussions on green growth in the Adriatic-Ionian Region and on the global fight against climate change in a dialogue with Lučka Kajfež Bogataj, Nobel Peace Prize Winner of 2007, and Boštjan Videmšek, European Climate Pact Ambassador.
For the first time, the honorary title of "Ambassador of the EU Macro-Regional Strategy – Windmill of Excellence" will be awarded to civil society representatives who have been able to upgrade their rich experience in developing macro-regional strategies in pursuit of the common good.
Several side events will be held before the official opening or in parallel to the Forum. On 5 May 2021, the floor will be given to the youth to listen to their expectations of a better Adriatic-Ionian Region in an inter-generational exchange. On 11 and 12 May 2021, Young POPRI, an entrepreneurial competition for the youth of the nine EUSAIR participating countries, will be the opportunity to present their fresh business ideas. The winner of the Young POPRI competition will be selected live during the second day of the Forum.
This virtual event will also bring networking 2.0 as much to stakeholders' needs as digitally possible with scheduled B2B sessions on 11 May 2021 via this separate registration.
Further networking opportunities will be ensured via the conference platform used for the Forum.
Be part of the experience and register to the 6th EUSAIR Forum!