Engaging citizens in Cohesion policy: Youth in Action for Cohesion Policy (YACOPO)
06/04/2021
We are happy to continue presenting you the beneficiaries of the grants for engaging citizens for good governance of EU cohesion policy. Today's presentation is about an Italian project focused on youth and led by Associazione culturale Malik.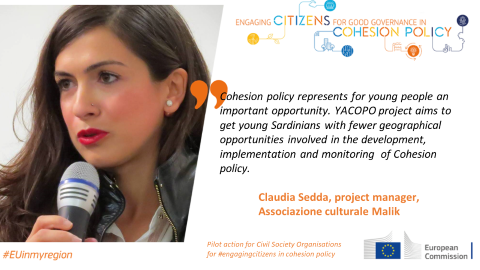 YACOPO project will actively involve young Sardinians in the monitoring of 2014-2020 cohesion policy and in the design and implementation of the 2021-2027 programming period. The project will run pilot actions, online consultations, media contests and workshops, to achieve stronger involvement of young people in the design and implementation of cohesion policy in Sardinia.
Claudia Sedda, project manager of YACOPO from Associazione culturale Malik said:
"Cohesion policy represents for young people an important opportunity. YACOPO project aims to get young Sardinians with fewer geographical opportunities involved in the development, implementation and monitoring of Cohesion policy."
The project was selected following an open call for expression of interest earlier this year. It is part of a broader action announced by the Commission at a High-Level Conference on the issue of Engaging Citizens for Good Governance in Cohesion Policy on 6 February 2020 to move one step forward in promoting citizens participation. In a complementary action, five national and regional programmes are receiving targeted support from the Organisation for Economic Co-operation and Development (OECD) to improve their participatory processes.
Claudia Sedda also explained the main features of the project: "Through innovative approaches, pilot actions, online consultations, video contests, photographic competitions, and European Awareness Scenario Workshops, the project plans to achieve the following results.
It will seek to discover why Sardinian young people do not know about – nor fully benefit from – EU cohesion policy.
It will give the Regional Management Authority better knowledge of the priorities and difficulties of young people, civil society, and administrators.
It will promote greater awareness of implemented projects thanks to the ERDF 2014-2020 for young people.
It will promote greater awareness among young people of the active and crucial role they can play in the formulation, implementation and monitoring of EU cohesion policies.
It will promote greater involvement by the public in cohesion policy.
It will improve listening and dialogue skills in civic networks."
Helping everyday public administrations improve their skills.
Managing EU funds can be difficult, and there are often needs for training and tools to make the work better and faster.
The competence centre for "administrative capacity building" at DG REGIO offers tools, training, support and knowledge to help civil servants increase their skills in topics as specialises as state aid, public procurement and auditing - and as wide as anti-corruption, fraud and civil society partnerships.
Visit the administrative capacity building webpage to know more about all the learning products we offer.