CoBiUM: supporting urban mobility with cargo bikes during COVID-19 pandemic
15/05/2020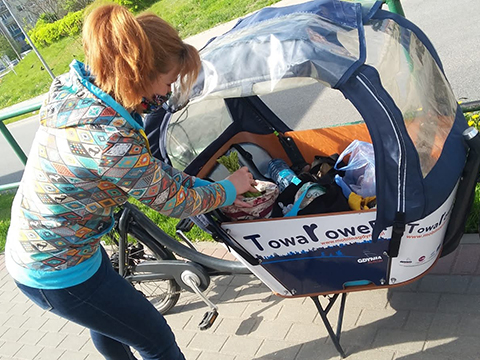 The Interreg South Baltic project Cargo Bikes in Urban Mobility (CoBiUM) aims at improving sustainable transport services for local entrepreneurs and residents in Denmark, Germany, Poland and Sweden. The COVID-19 pandemic is now a priority area of interest where all available resources are being engaged. Local entrepreneurs, who have been severely affected by the COVID-19 outbreak, had to find ways to keep their business going. Thanks to the cargo bikes of the CoBiUM project, local restaurants can deliver fresh and warm meals around the city.
"We deliver meals to the Municipal Hospitals, the Emergency Station and the Sanitary and Epidemiological Station in Gdynia (Poland). We also use a cargo bike for quick delivery of supplies to our restaurant" says Jakub Malenta, the manager of the Muszla restaurant in Gdynia. "Such a means of transport is economic, ecological, and good for your health" adds Jakub.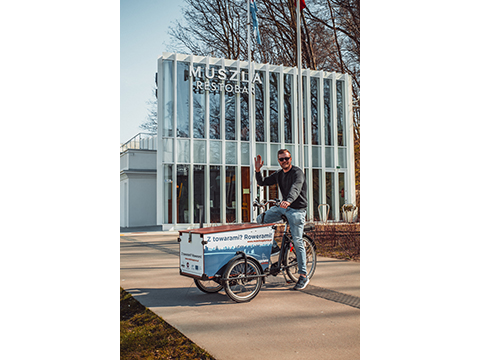 The cargo bikes turned out to be a convenient means of transport for residents who help elderly neighbours to do grocery shopping. The electric engine and a big cargo box make heavy shopping easy to deliver.
"I do shopping for three families, says Anna Skuras, mom of two and a social activist. At first, I used to go grocery shopping with a 60 litres backpack but it was very exhausting for me. I heard about the possibility of renting a cargo bike and that was it! During the dry weather which we experience right now, I use the cargo bike for transporting large containers with water for watering newly planted trees in a little municipal park nearby (as part of the neighbourhood initiative "Inicjatywa Wielki Kack"). The rain cover on top of the box makes a cosy, comfortable and hygienic vehicle for moving around the neighbourhood with kids, no matter the weather. It is a great alternative for taking a bus or a tram, especially during the isolation" admits Anna.
The CoBiUM project with its cargo bikes creates innovative solutions for green, sustainable, and convenient transport in municipal areas. The time of the pandemic proves that there is a huge need for such services among residents.