The Corruption Perception Index 2019: The EU is the best performer in the world
27/01/2020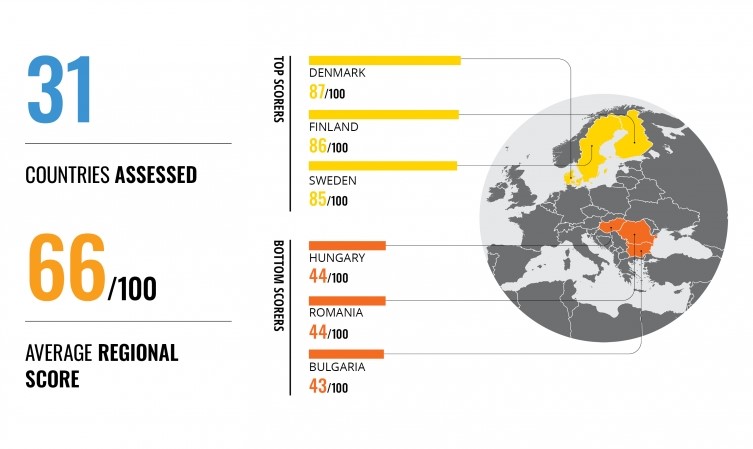 The European Union continues to be the best performing region in the world but some of its Member States are not immune to corruption. This is the snapshot emerging from the 2019 Corruption Perception Index just released by Transparency International. Nine of the top 20 countries in this year's CPI are from the EU. With 87 points, Denmark is the highest-scoring country in the region, followed by Finland (86) and Sweden (85). At the bottom of the region are Bulgaria (43), Romania (44) and Hungary (44).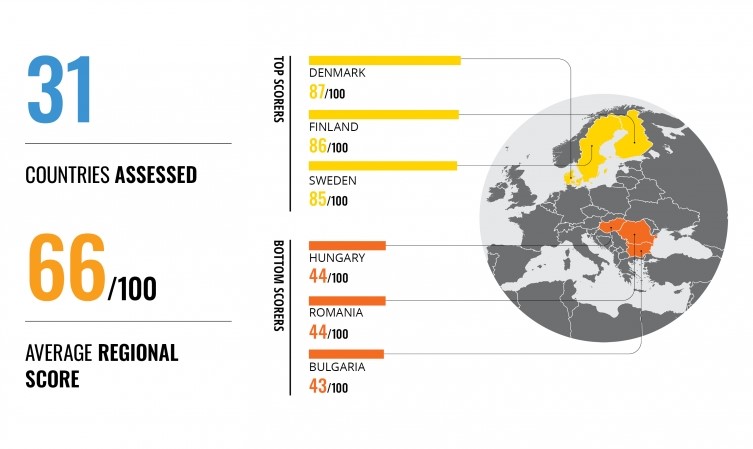 This year's edition shows that the massive efforts deployed in recent years are paying off. With a score of 53, Italy increased by 11 points since 2012 while Greece (48) increased by 12 points during the same period. Both countries experienced concrete improvements, including legislative progress in Italy with the passage of anti-corruption laws and the creation of an anti-corruption agency in both countries. At the same time, countries in Central and Eastern Europe are still struggling to address corruption and its perception effectively. Issues of conflict of interest, abuse of state resources for electoral purposes, insufficient disclosure of political party and campaign financing, and a lack of media independence have been pointed out by Transparency International as priority for both for national governments and the EU.
Improving transparency and building trust in institutions are essential element of successful public policies and investment. The 7th Cohesion Report highlighted that improving the quality of government and implementing structural reforms are conducive to growth and jobs. Efficiency, integrity and transparency of public institutions, as well as an intense and constant dialogue with all partners, including with civil society, are all necessary ingredients to increase the impact of cohesion policy in EU Member States and regions and bring good results for citizens.
In the management of Cohesion Policy funds, the European Commission and Member States share the responsibility for protecting the EU taxpayers' money and ensure that investments deliver the planned results. In particular, the EU legislation contains a specific obligation for managing authorities to put in place risk-based, effective and proportionate fraud and corruption prevention measures.
The Commission applies zero tolerance to fraud and corruption and is constantly engaged in protecting EU taxpayers' money. The aim is to make sure that every cent of the EU budget is spent for the benefit of the citizen. The Commission is monitoring the implementation of EU programmes and funds on the ground. If Member States or final beneficiaries spend EU money incorrectly, the Commission takes recovery measures. To prevent fraud and corruption, it also help national and regional authorities enhance their capacity to assess risks and to detect, report and correct problems in an effective and timely manner.
In order to improve transparency in public procurement for EU-funded projects, the European Commission and Transparency International are currently promoting the use of Integrity Pacts for EU-funded projects. Integrity Pacts are legally binding agreements under which independent third parties oversee the public procurement process to ensure that it is carried out in a fair and transparent manner.
The Commission is also working on enhancing citizens' participation and engagement in the policy cycle as a natural way of ensuring transparency and sense of ownership. A high-level conference on "Engaging citizens for good governance in Cohesion Policy" will gather civil society, think tanks, policy makers and experts to create a new momentum for a genuine and direct role of citizens in delivering EU investment on the ground.
Background
The index, which ranks 180 countries and territories by their perceived levels of public sector corruption according to experts and businesspeople, uses a scale of 0 to 100, where 0 is highly corrupt and 100 is very clean. This year, the index found that more than two-thirds of countries score below 50, with an average score of 43. Unfortunately, compared to recent years, this poor performance is nothing new.
More information
The Corruption Perception Index 2019