Report: Comprehensive analysis of the existing cross-border rail transport connections and missing links on the internal EU borders
06/06/2018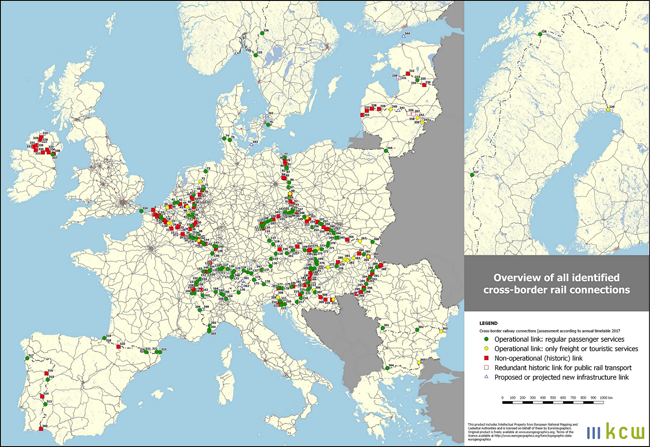 The study includes a thorough inventory of 365 cross-border rail links which are under exploited or not exploited at all, many being abandoned lines. In total 176 missing and promising links along 43 EU and EFTA internal land borders have been recorded. Missing links represent an obvious obstacle and burden in European cross-border regions.
A pan-European demand estimation of rail travel potential was carried out for all these links. Following stakeholder consultation and taking into account the opinion of competent authorities, 48 cross-border rail connections were assessed as "potentially most beneficial projects".
The study presents its key findings and proposes recommendations on how to smoothen the implementation of new cross-border railway connections. With the cooperation of European, national and regional stakeholders, competent authorities and infrastructure managers of many today's missing railway links may see new passenger services in the future, contributing to the functioning of prospering and integrated European cross-border regions.
Comprehensive analysis of the existing cross-border rail transport connections and missing links on the internal EU borders