Website content
Subscribe
Sign up for the weekly EU Trade Newsletter for a digest of:
the latest news on EU trade
new trade negotiating texts, reports and studies
upcoming events and consultations
EU Trade Commissioner's statements
Subscribe to the EU Trade Newsletter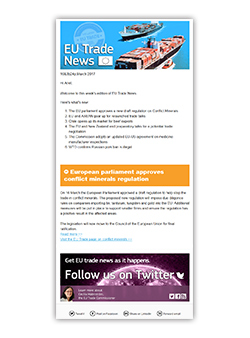 Disclaimer
The European Commission issues this newsletter to inform the public about its initiatives and activities in the area of trade. Our goal is to ensure that the information is timely and accurate. If errors are brought to our attention we will try to correct them. The Commission accepts no responsibility or liability whatsoever with regard to the information in this newsletter.
The disclaimer, the copyright notice and the statement on Personal Data Protection that you can find on the Legal notice page apply accordingly to this newsletter and the data collected for its distribution.
To find out how we use your data and get your data privacy questions about our Newsletter answered, please consult our Privacy Policy.