Website content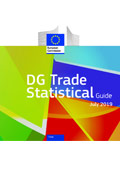 This Pocket Guide contains selected tables and graphs outlining the current state and recent developments in the EU's foreign trade.
The EU has become deeply integrated into global markets.
The openness of our trade regime has meant that the EU is the biggest player on the global trading scene and remains a good region to do business with.
Overview
EU27 merchandise trade with 3rd countries
EU27 merchandise trade with 3rd countries
€ billions
Year-on-year growth* %
12-month period
Imports
Exports
Balance
Imports
Exports
Jun 19 - May 20
1837
2020
183
-6.1%
-4.1%
Jul 19 - Jun 20
1817
2003
186
-6.8%
-4.4%
Aug 19 - Jul 20
1791
1982
191
-8.4%
-6.0%
Sep 19 - Aug 20
1767
1959
192
-9.3%
-7.0%
Oct 19 - Sep 20
1754
1952
198
-10.1%
-7.7%
Nov 19 - Oct 20
1729
1932
203
-11.2%
-9.2%
Dec 19 - Nov 20
1719
1929
210
-11.3%
-9.1%
Jan 20 - Dec 20
1714
1932
218
-11.7%
-9.4%
Feb 20 - Jan 21
1686
1915
229
-13.1%
-10.2%
Mar 20 - Feb 21
1682
1909
228
-13.1%
-10.5%
Apr 20 - Mar 21
1710
1928
218
-10.8%
-9.2%
May 20 - Apr 21
1751
1982
231
-6.8%
-4.5%
Jun 20 - May 21
1793
2025
232
-2.4%
0.2%
Source : Eurostat 15/07/2021 (*change compared to same period 12 months earlier)