Website content
West Africa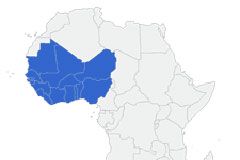 The EU has initialed an Economic Partnership Agreement with 16 West African states; the Economic Community of West African States (ECOWAS) and the West African Economic and Monetary Union (WAEMU).
Until the adoption of the full regional EPA with West Africa, 'stepping stone' Economic Partnership Agreements with Côte d'Ivoire and Ghana entered into provisional application on 3 September 2016 and 15 December 2016 respectively.
Trade picture
West Africa is the EU's largest trading partner in sub-Saharan Africa. The EU is West Africa's biggest trading partner.
The EU is the main export market for West African transformed products (fisheries, agribusiness, textiles, etc.).
West Africa's exports to the EU consist mainly of fuels and food products.
West Africa's imports from the EU consist of fuels, food products, machinery, and chemicals and pharmaceutical products.
EU – West Africa trade in services is expanding, covering notably transportation and logistics, travel, and business services.
West Africa is the most important investment destination for the EU in Africa.
EU-ACP - West Africa: Trade in goods
Trade in goods 2018-2020, € billions

| Year | EU imports | EU exports | Balance |
| --- | --- | --- | --- |
| 2018 | 29.7 | 28.4 | -1.3 |
| 2019 | 31.5 | 28.8 | -2.7 |
| 2020 | 22.5 | 25.9 | 3.4 |
Unless otherwise mentioned "EU" concerns for all indicated years the current European Union of 27 Member States.
EU and West Africa
The Economic Partnership Agreement (EPA) with West Africa covers goods and development cooperation. The EPA also includes the possibility to hold further negotiations on sustainable development, services, investment and other trade-related issues in the future.
The EPA will
help West Africa to integrate better into the global trading system and will support investment and economic growth in the region.
increase West African exports to the EU
stimulate investment and contribute to developing productive capacity, with a positive effect on employment.
Both parties have started to design together a monitoring mechanism (available in French) for the implementation of the EPA.
All the countries in West Africa are members of the WTO.
More details on the tariff aspects of the EPA
Shade BEMBATOUM YOUNG, CEO of African Sustainable SME Export Trade Solutions (ASSETS) - Testimonial
Alhaji Sani DANGOTE, Vice President of Dangote Group - Testimonial
Jean-Louis MENUIDIER, Chairman of Uniwax - Testimonial
West Africa - European Union: Economic Partnership Agreement
Let's focus on the facts!
West Africa – European Union Economic Partnership Agreement
Subtitles available in French and Portuguese
Meetings and documents on implementation
Both parties meet regularly to discuss EPA implementation. For more information, please consult:
Trading with West Africa
See how the interim Economic Partnership Agreement is benefitting exporters in Cote d'Ivoire and Ghana: