Website content
Gulf region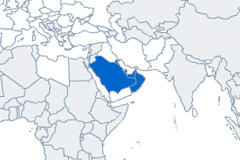 The six member countries of the Gulf Cooperation Council (Bahrain, Kuwait, Oman, Qatar, Saudi Arabia and the UAE) represent an important region from a trade point of view and were the EU's fourth largest export market in 2016. The GCC countries have formed their own customs union and are working towards the goal of completing an internal market.
There is an ongoing cooperation between the EU and GCC on trade and investment issues, macro-economic matters, climate change, energy and environment as well as research.
A more structured informal EU-GCC dialogue on Trade and Investment was launched in May 2017.
Trade picture
Gulf Cooperation Council
EU-GCC total trade in goods in 2017 amounted to €143.7 billion. In 2017, EU exports to the GCC amounted to €99.8 billion. In the meantime, EU imports from the GCC accounted for only €43.8 billion, generating a significant trade surplus for the EU.
EU-GCC trade has been steadily growing between 2006 and 2016: total trade rose by 53% in ten years, with a peak in 2013 – corresponding to the peak of oil prices.
In 2017 EU exports to Gulf Cooperation Council countries were diverse but focused on industrial products (91.1%) such as power generation plants, railway locomotives and aircrafts as well as electrical machinery and mechanical appliances. Machinery and transport equipment (€47,3 billion, 47,4%) and chemicals (€11.6 billion, 11.7%) were the main categories of products exported in 2017.
EU imports from Gulf Cooperation Council countries are mainly mineral fuels and mining products (€28,7 billion, 65,5%) and chemicals (€5,0 billion, 11,5%).
The EU was the first trading partner for the GCC in 2018 accounting for 14,6% of its total trade, followed by China (12.2%), Japan (8.5%) and India (8.4%).
Bilateral trade in Services has also been increasing and amounted to €47.8 billion in 2014 compared to €36.5 billion in 2010. EU services exports are roughly twice as much (€32.0 billion) as those of the GCC (€15.8 billion).
EU-Gulf region: Trade in goods
Trade in goods 2017-2019, € billions

| Year | EU imports | EU exports | Balance |
| --- | --- | --- | --- |
| 2017 | 36.4 | 80.5 | 44.1 |
| 2018 | 47.1 | 74.1 | 27.0 |
| 2019 | 43.1 | 78.1 | 35.0 |
Unless otherwise mentioned "EU" concerns for all indicated years the current European Union of 27 Member States.
EU-Gulf Cooperation Council trade negotiations
The EU and Gulf Cooperation Council launched negotiations for a Free Trade Agreement (FTA) in 1990. The FTA is foreseen to provide for a progressive and reciprocal liberalisation of trade in goods and services. The negotiations have faced several challenges and were effectively halted in 2008, when the GCC countries suspended all ongoing negotiations in which they were involved.
While periodic informal contacts have taken place since then to test whether a basis might be found to resume and conclude negotiations, these have not been successful. In parallel with the negotiations, the prospective EU-GCC FTA was subject to a sustainability impact assessment.
EU and the Gulf region – bilateral trade
The framework for economic and political cooperation between the EU and the GCC countries is provided by the 1988 EU-GCC cooperation agreement that seeks to improve trade relations and stability in a strategic part of Europe's neighbourhood. The agreement created a Joint Council and a Joint Co-operation Committee which meet annually.
The two sides meet on an annual basis to discuss trade, amongst other topics, within the EU-GCC Joint Co-operation Committee held in Riyadh or Brussels.
In May 2017, the EU and GCC launched a dedicated Dialogue on Trade and Investment issues, also with the participation of their respective private sectors. This Dialogue provides a dedicated platform to tackle trade and investment related issues and enhance cooperation on matters of mutual interest such as market access irritants, regulatory requirements and ways to encourage greater two-way trade and investment flows.
The six Gulf Cooperation Council countries are all classified as high-income economies by the World Bank and accordingly do not benefit from preferential access to the EU market under the EU's Generalised Scheme of Preferences (GSP).
More details on the EU's new GSP scheme.
Trading with the Gulf region