Website content
East African Community (EAC)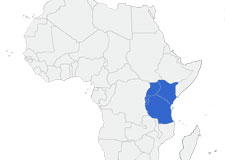 The East African Community (Burundi, Kenya, Rwanda, Tanzania, and Uganda) finalised the negotiations for an Economic Partnership Agreement (EPA) with the EU on 16 October 2014.
Kenya and Rwanda signed the EPA in September 2016, and Kenya has ratified it. For the EPA to enter into force, the three remaining EAC members need to sign and ratify the agreement.
South Sudan became the sixth member of the EAC in September 2016.
The European Commission submitted a proposal for conclusion, signature and provisional application of the full EPA with the East African Community to the Council in February 2016.
Trade picture
Exports to the EU from East African Community are mainly coffee, cut flowers, tea, tobacco, fish and vegetables.
Imports from the EU into the region are dominated by machinery and mechanical appliances, equipment and parts, vehicles and pharmaceutical products.
EU-East African Community (EAC): Trade in goods
Trade in goods 2017-2019, € billions

| Year | EU imports | EU exports | Balance |
| --- | --- | --- | --- |
| 2017 | 2.0 | 3.0 | 1.0 |
| 2018 | 1.9 | 3.2 | 1.2 |
| 2019 | 1.9 | 3.2 | 1.3 |
Unless otherwise mentioned "EU" concerns for all indicated years the current European Union of 27 Member States.
EU and the East African Community
Burundi, Rwanda, Tanzania and Uganda are on the UN's list of Least Developed Countries (LDCs), while Kenya is a non-LDC.
The countries in the East African Community are members of the WTO with the exception of South Sudan.
The EU-EAC EPA covers trade in goods and development cooperation. It also contains a chapter on fisheries, mainly to reinforce cooperation on the sustainable use of resources. The agreement provides for further negotiations on services and trade-related rules in the future.
The deal is in line with the EAC Common External Tariff. It bans unjustified or discriminatory restrictions on imports and exports. This helps the EAC's efforts to get rid of non-tariff barriers in intra-EAC trade.
Factsheet on the Interim Economic Partnership Agreement between the EU and the East African Community
Meetings and documents on implementation
Both parties meet regularly to discuss EPA implementation. For more information, please consult:
Trading with the East African Community