Website content
The aim of the EU's trade and development policy is to put trade at the service of inclusive growth and development for developing countries.
Trade and Development in a nutshell
Supporting the world's Least Developed Countries (LDCs)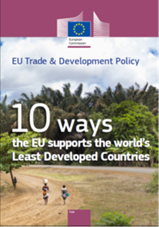 Find out 10 ways how the EU's trade and development policies support the world's Least Developed Countries (LDCs).
The aim of the EU trade and development policy is explained in its trade, growth and development communication. The EU wants to help the least-developed countries and others to boost their production, diversify their economy and infrastructure, and improve their governance.
The EU's trade and development policy emphasises that these countries should have ownership of their own development strategies. They need to implement sound domestic policies and make necessary domestic reforms to stimulate trade and investment, ensure that the poor benefit from trade-led growth and make sure their development is for the long-term.
EU trade and development policy
The EU's aim is to use the following trade and development policies for the benefit of developing countries, particularly for LDCs and other countries most in need:
Economic Partnership Agreements (EPAs) and other trade agreements with developing countries
The EU has boosted its bilateral and regional relations with developing countries.
Most African, Caribbean and Pacific (ACP) countries implement or have signed Economic Partnership Agreements with the EU.
EPA goals and partner countries
The EU has also launched a series of other trade agreements with other developing countries in Asia, Latin America, Europe's Eastern neighbourhood and the Southern Mediterranean.
The EU looks at 'behind-the-border issues' such as technical, social and environmental matters when creating those types of agreements with with a view of making trade policy contribute to the development of those countries or regions,.
General Scheme of Preferences (GSP)
The EU's GSP preferential trade scheme entered into force in January 2014. It increases the focus of EU unilateral preferences on developing countries most in need in sectors where they need them.
GSP policy, projects and eligible countries
Aid for Trade
The EU provides Aid for Trade (AfT) assistance to support partner countries' efforts to develop and expand their trade as a way to grow their country and reduce poverty.
This can include support for building new transport, energy or telecommunications infrastructure, investments in agriculture, fisheries and services,
Aid for Trade policies and initiatives
Help for exporters from developing countries
The EU's Trade Helpdesk supports small traders in developing countries by helping them access the EU market, and provides information on EU rules and regulations.
The International Trade Center (ITC) supports several development projects across the world.  
The ITC's Standards Map provides information on standards, codes of conduct and audit protocols for international trade.
The Small Traders Capacity Building program supports developing countries in administration, training, and information on tariffs, trade flows, standards, etc.