Website content
Ukraine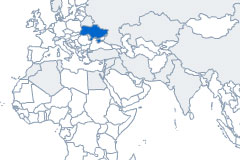 The EU and Ukraine have provisionally applied their Deep and Comprehensive Free Trade Agreement (DCFTA) since 1 January 2016. This agreement means both sides will mutually open their markets for goods and services based on predictable and enforceable trade rules.
This is part of the broader Association Agreement (AA) whose political and cooperation provisions have been provisionally applied since November 2014.
Autonomous Trade Measures (ATMs) for Ukraine topping up the concessions included in the EU-Ukraine Association Agreement/its Deep and Comprehensive Free Trade Area (DCFTA) for several industrial goods and agricultural products entered into force in October 2017.
Trade picture
The EU is Ukraine's largest trading partner, accounting for more than 40% of its trade in 2016. Ukraine accounts for 0.9% of EU's total trade, with a turnover of €29.6 bn in 2016.
Ukraine exports to the EU amounted to €13.1 bn in 2016. The main Ukraine exports are raw materials (iron, steel, mining products, agricultural products), chemical products and machinery.
The EU exports to Ukraine amounted to over €16.5 bn in 2016. The main EU exports to Ukraine include machinery and transport equipment, chemicals, and manufactured goods.
Total trade between the EU and Ukraine increased by 27.1 % from January to August 2017 vs January to August 2016. In that period, exports from EU to Ukraine increased by 26.6% whereas imports from EU to Ukraine increased by 27.7 %.
The EU is a large investor in Ukraine. EU investors held investments worth around €16.1 bn in Ukraine in 2015.
EU-Ukraine: Trade in goods
Trade in goods 2016-2018, € billions

| Year | EU imports | EU exports | Balance |
| --- | --- | --- | --- |
| 2016 | 13.2 | 16.6 | 3.4 |
| 2017 | 16.7 | 20.2 | 3.5 |
| 2018 | 18.0 | 22.1 | 4.1 |
EU-Ukraine: Trade in services
Trade in services 2015-2017, € billions

| Year | EU imports | EU exports | Balance |
| --- | --- | --- | --- |
| 2015 | 2.7 | 5.1 | 2.4 |
| 2016 | 2.6 | 5.5 | 2.9 |
| 2017 | 2.9 | 6.7 | 3.8 |
EU-Ukraine: Foreign direct investment
Foreign direct investment 2017, € billions

| Year | Inward stocks | Outward stocks | Balance |
| --- | --- | --- | --- |
| 2017 | 0.3 | 12.6 | 12.4 |
EU and Ukraine
The AA/DCFTA aims to boost trade in goods and services between the EU and Ukraine by gradually cutting tariffs and bringing Ukraine's rules in line with the EU's in certain industrial sectors and agricultural products.
Export ban on unprocessed wood
The EU-Ukraine Association Agreement prohibits any form of export restrictions.
The EU considers therefore that keeping in place since 2005 a permanent ban on exports of sawn wood violates the terms of the agreement.
To better integrate with the EU market, Ukraine is harmonising many of its norms and standards in industrial and agricultural products. Ukraine is also aligning its legislation to the EU's in trade-related areas such as:
competition
public procurement
customs and trade facilitation
protection of intellectual property rights
trade-related energy aspects, including investment, transit and transport
Small and Medium sized Enterprises (SMEs) in Ukraine can receive support from the EU's SME Flagship Initiative. This initiative allows SMEs in Ukraine, Georgia and Moldova to access approximately € 200m of EU grants. This funding adds to the new trade opportunities with the EU that have been created by DCFTA.
The EU has banned the import of goods originating in Crimea and Sevastopol, as well as investments and a number of directly related services there until at least 23 June 2020. This is in line with its policy of not recognising the Russian Federation's illegal annexation of Crimea and Sevastopol,.
Ukraine has benefitted from the EU's Generalised System of Preferences (GSP) since 1993. In 2013, more than 70% of Ukrainian exports to the EU of machinery and mechanical appliances, plants, oils, base metals, chemicals and textiles benefitted from GSP preferential tariffs. Following the provisional application of the DCFTA, these GSP preferences will be phased out at the end of 2017.
Committees and Dialogues
The EU and Ukraine meet regularly to discuss issues and best practices when applying the agreement. The committees meet regularly.
Trade Sustainable Development Sub-Committee
2nd meeting – 13 November 2018: Agenda | Joint Statement  
3rd meeting – 6 November 2019: Agenda | Joint Statement  
Follow the link for more info on the implementation of the trade and sustainable development (TSD) in trade agreements – TSD committees and civil society meetings
Association Committee in Trade Configuration
3rd meeting  – 22-23 November 2018: Agenda | Joint Report
Sub-Committee on Geographical Indications
3rd meeting – 15 May 2019: Agenda
Sub-Committee on Customs
3rd meeting-11 July 2019: Agenda | Report
Trading with Ukraine