Website content
Turkey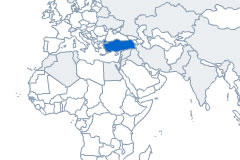 EU-Turkey trade relations are based on an Association Agreement from 1963 and a Customs Union agreement, which entered into force on 31 December 1995.
Turkey has been a candidate country to join the European Union since 1999. Accession negotiations started in 2005, but have not advanced recently. Turkey is a member of the Union for the Mediterranean.

Enhancement of EU-Turkey bilateral trade relations and modernisation of the EU-Turkey Customs Union
Trade picture
Turkey is the EU's 6th biggest trade partner, representing 3.6% of the EU's total trade in goods with the world in 2020.
The EU is by far Turkey's largest import and export partner, as well as its main source of investments. In 2020, 33.4% of Turkey's imports came from the EU and 41.3% of the country's exports went to the EU.
Total trade in goods between the EU and Turkey in 2020 amounted to €132.4 billion. The EU's imports from Turkey were worth €62.6 billion and were led by machinery and transport equipment (€24.1 billion, 38.5%), clothing (€8.3 billion, 13.3%), and agriculture and raw materials (€5.3 billion, 8.5%). The EU's exports to Turkey totalled €69.9 billion. They were dominated by machinery and transport equipment (€30.6 billion, 43.8%), chemicals (€12.9, 18.5%) and fuel and mining products (€6.4 billion, 9.2%).
Two-way trade in services between the EU and Turkey in 2019 amounted to €26.5 billion, with EU imports of services representing €13.9 billion and exports €12.6 billion.
EU-Turkey: Trade in goods
Trade in goods 2018-2020, € billions

| Year | EU imports | EU exports | Balance |
| --- | --- | --- | --- |
| 2018 | 66.9 | 69.2 | 2.3 |
| 2019 | 69.8 | 68.3 | -1.5 |
| 2020 | 62.6 | 69.9 | 7.3 |
EU-Turkey: Trade in services
Trade in services 2017-2019, € billions

| Year | EU imports | EU exports | Balance |
| --- | --- | --- | --- |
| 2017 | 12.1 | 10.9 | -1.2 |
| 2018 | 12.9 | 12.3 | -0.7 |
| 2019 | 13.9 | 12.6 | -1.3 |
EU-Turkey: Foreign direct investment
Foreign direct investment 2019, € billions

| Year | Inward stocks | Outward stocks | Balance |
| --- | --- | --- | --- |
| 2019 | 17.6 | 53.5 | 35.9 |
Unless otherwise mentioned "EU" concerns for all indicated years the current European Union of 27 Member States.
EU and Turkey
Turkey trading with the world
In addition to the Customs Union and other agreements with the EU, Turkey has 22 Free Trade Agreements in force with: EFTA countries, Israel, North Macedonia, Bosnia-Herzegovina, Palestine*, Tunisia, Morocco, Egypt, Syria (suspended), Albania, Georgia, Montenegro, Serbia, Chile, Mauritius, South Korea, Malaysia, Moldova, Faroe Islands, Singapore, Kosovo, Venezuela and the United Kingdom. More details
In 1963, the European Economic Community (the EEC; the EU's predecessor) and Turkey signed the Ankara Association Agreement, which expanded their economic and trade relations. An Additional Protocol aimed at progressively establishing a customs union between Turkey and the EEC, and more closely aligning economic policies between the two parties, entered into force in 1973.
The Customs Union entered into force on 31 December 1995. It was the EU's first substantial customs union with a non-EU country. It covers all industrial goods, but does not address agriculture (except for processed agricultural products), services or public procurement. Bilateral trade concessions apply to agricultural, coal and steel products. The Customs Union provides for a common external tariff for the products covered. It also foresees that Turkey aligns to EU law (the acquis communautaire) in areas related to the Customs Union, such as customs legislation, the removal of technical barriers to trade, and the approximation of laws on protecting intellectual, industrial and commercial property and competition rules (including state aid).
Since its entry into force, the value of bilateral trade has increased more than fourfold. The Customs Union is also broadly recognised for having significantly contributed to Turkey's integration into European production networks. The alignment with the EU acquis and the liberalisation of tariffs have enhanced Turkey's global competitiveness. Around 30% of Turkey's GDP is associated with trade.
In December 2016, the Commission proposed to modernise the Customs Union and to extend bilateral trade relations to areas such as services, public procurement and sustainable development. The Commission proposal was based on comprehensive preparatory work throughout 2016, which included a public consultation with stakeholders, a detailed Impact Assessment and a study by an external consultant. However, the Council has not yet adopted the mandate.
More information on the Customs Union and preferential arrangements.
Turkey and the Union for the Mediterranean
Turkey is one of 42 members of the Union for the Mediterranean (UfM), which was launched in 2008 as a continuation of the Euro-Mediterranean Partnership established at the Barcelona Conference in 1995. This inter-governmental partnership promotes cooperation and dialogue in the Euro-Mediterranean region and brings together all 27 EU Member States and 15 countries of the Southern and Eastern Mediterranean (Albania, Algeria, Bosnia and Herzegovina, Egypt, Israel, Jordan, Lebanon, Mauritania, Monaco, Montenegro, Morocco, Palestine*, Syria – suspended, Tunisia and Turkey; Libya is an observer).
The UfM's strategic objectives are regional stability, human development and regional economic integration. Its overall aim is to transform the Euro-Mediterranean region into an area of peace, stability and prosperity.
More information on the Union for the Mediterranean
Committees and Dialogues
The EU and Turkey meet regularly to discuss issues and best practices when applying the agreement. The committees meet regularly.
EC-Turkey Customs Union Joint Committee
36th meeting – 8-9 July 2019: Agenda | Report
37th meeting – 8-9 July 2021: Agenda
Trading with Turkey
* This designation shall not be construed as recognition of a State of Palestine and is without prejudice to the individual positions of the Member States on this issue.