Website content
Turkey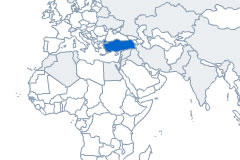 The EU and Turkey are linked by a Customs Union agreement, which came into force on 31 December 1995.
Turkey has been a candidate country to join the European Union since 1999, and is a member of the Euro-Mediterranean partnership.

Enhancement of EU-Turkey bilateral trade relations and modernisation of the EU-Turkey Customs Union
Trade picture
In 2019, Turkey was the EU's 5th largest trading partner, export market and provider of imports. The EU is by far Turkey's number one import and export partner, as well as source of investments.
After several years of rapid growth in the EU-Turkey bilateral trade in goods were curbed by Turkey's economic difficulties in 2018, in 2019 trade continued to show a mixed picture. While imports retrenched further, exports expanded, bringing Turkey's overall trade deficit to a ten-year low of €26.3 billion. Towards the end of the year, however, there were signs of continuing to the previous trend of strengthened imports. 
EU goods exports to Turkey in 2019 fell by 1.3% to €68.2bn, while imports from Turkey rose by 4.4% to €69.8bn. Overall trade in goods thus amounted to €138 billion in 2018.
Turkey's main export markets are the EU ( 42.4%), UK, Iraq, USA and Israel.
Imports into Turkey come from the following key markets: the EU ( 32.3%), Russia, China, USA and India.
EU exports to Turkey are dominated by machinery, transport equipment and chemical products. In turn, Turkey's exports to the EU are mostly transport equipment and textile articles, followed by machinery.
EU-Turkey: Trade in goods
Trade in goods 2017-2019, € billions

| Year | EU imports | EU exports | Balance |
| --- | --- | --- | --- |
| 2017 | 61.4 | 76.7 | 15.3 |
| 2018 | 66.8 | 69.2 | 2.4 |
| 2019 | 69.8 | 68.3 | -1.5 |
EU-Turkey: Trade in services
Trade in services 2016-2018, € billions

| Year | EU imports | EU exports | Balance |
| --- | --- | --- | --- |
| 2016 | 11.9 | 10.8 | -1.2 |
| 2017 | 12.0 | 10.7 | -1.2 |
| 2018 | 12.9 | 11.2 | -1.6 |
EU-Turkey: Foreign direct investment
Foreign direct investment 2018, € billions

| Year | Inward stocks | Outward stocks | Balance |
| --- | --- | --- | --- |
| 2018 | 22.8 | 58.5 | 35.6 |
Unless otherwise mentioned "EU" concerns for all indicated years the current European Union of 27 Member States.
EU and Turkey
Turkey trading with the world
In addition to the Custom Union and other agreements with the EU, Turkey has 20 Free Trade Agreements in force with: EFTA, Israel, the former Yugoslav Republic of Macedonia, Croatia, Bosnia-Herzegovina, Tunisia, Morocco, Syria, Egypt, Georgia, Albania, Montenegro, Serbia, Chile, Jordan and Lebanon.
EFTA, Israel, North Macedonia, Bosnia-Herzegovina, Albania, Montenegro, Serbia, Georgia, Moldova, Faroe Islands, Tunisia, Morocco, Syria (suspended), Egypt, the Palestinian Authority, Chile, Mauritius, South Korea, Malaysia and Singapore. More details
The Customs Union entered into force on 31 December 1995. It covers all industrial goods but does not address agriculture (except processed agricultural products), services or public procurement. Bilateral trade concessions apply to agricultural as well as coal and steel products.
More information on Customs Union and preferential arrangements.
In addition to providing for a common external tariff for the products covered, the Customs Union foresees that Turkey is to align to the acquis communautaire in several essential internal market areas, notably with regard to industrial standards.
In December 2016, the Commission proposed to modernise the Customs Union and to further extend the bilateral trade relations to areas such as services, public procurement and sustainable development. The Commission proposal was based on comprehensive preparatory work throughout 2016 which included a public consultation with stakeholders, a detailed Impact Assessment and also a study by an external consultant. However, the Council has not yet adopted the mandate.
Turkey and Euromed
Turkey is member of the Euro-Mediterranean partnership (Euromed) and as such should conclude free trade agreements with all other Mediterranean partners, with a view to the creation of a Euro-Mediterranean free trade area.
The Euro-Mediterranean Partnership promotes economic integration and democratic reform across 16 neighbours to the EU's south in North Africa and the Middle East. One important part of this work is to achieve mutually satisfactory trading terms for the Euromed region's partners.
The Euro-Mediterranean Partnership is an essential component in the pursuit of greater economic integration in the Mediterranean region.
More information on the Euro-Mediterranean partnership
Committees and Dialogues
The EU and Turkey meet regularly to discuss issues and best practices when applying the agreement. The committees meet regularly.
EC-Turkey Customs Union Joint Committee
36th meeting – 8-9 July 2019: Agenda | Report
Trading with Turkey