Website content
Tunisia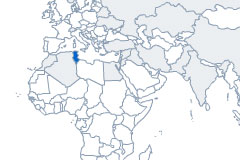 Negotiations for a Deep and Comprehensive Free Trade Area (DCFTA) between the EU and Tunisia were launched on 13 October 2015. One negotiating round has taken place so far, in April 2016. The DCFTA will build on the existing EU-Tunisia Association Agreement, which entered into force in 1998 and created a Free Trade Area between the EU and Tunisia.
The overall goal of the negotiations is to create new trade and investment opportunities and ensure a better integration of Tunisia's economy into the EU single market. The DCFTA also aims at supporting ongoing economic reforms in Tunisia and at bringing the Tunisian legislation closer to that of the EU in trade-related areas.
Discussions cover a wide range of issues including agriculture, services, and sustainable development. The EU and Tunisia published a joint report, the EU-proposed negotiation texts and explanatory factsheets following the round.

More information on the EU-Tunisia Deep and Comprehensive Free Trade Area (DCFTA)
Trade picture
The EU is Tunisia's largest trading partner, accounting for 64% of its trade in 2017: 78,5% of Tunisia's exports went to the EU, and 54,3% of Tunisia's imports came from the EU. Tunisia is the EU's 34th trading partner representing 0.6% of the EU's total trade with the world.
Total trade in goods between the EU and Tunisia in 2017 amounted to €20,5 billion.
The EU's imports from Tunisia are mostly made up of machinery and transport equipment (€3,8 billion, 41,3%), textiles and clothing (€2,2 billion, 23,7%) and agricultural products (€0,5 billion, 6,1%).
The EU's exports to Tunisia are dominated by machinery and transport equipment (€3,9 billion, 35,1%), followed by textiles and clothing (€1,3 billion, 12,3%), chemicals (€1,2 billion, 11,0%), and fuels and mining products (€1,2 billion, 11,6%).
Two-way trade in services amounted to €4,8 billion in 2016 with EU imports of services representing €3,3 billion and exports €1,5 billion.
Flows of foreign direct investment to Tunisia are concentrated on the development of the infrastructure network as well as of the textiles and clothing sectors.
EU-Tunisia: Trade in goods
Trade in goods 2016-2018, € billions

| Year | EU imports | EU exports | Balance |
| --- | --- | --- | --- |
| 2016 | 9.3 | 10.6 | 1.2 |
| 2017 | 9.4 | 11.2 | 1.7 |
| 2018 | 10.1 | 11.6 | 1.5 |
EU-Tunisia: Trade in services
Trade in services 2015-2017, € billions

| Year | EU imports | EU exports | Balance |
| --- | --- | --- | --- |
| 2015 | 3.3 | 1.4 | -1.9 |
| 2016 | 2.3 | 1.4 | -0.9 |
| 2017 | 2.5 | 1.3 | -1.1 |
EU-Tunisia: Foreign direct investment
Foreign direct investment 2017, € billions

| Year | Inward stocks | Outward stocks | Balance |
| --- | --- | --- | --- |
| 2017 | 0.4 | 4.0 | 3.7 |
EU and Tunisia
Financial support
The European Neighbourhood Policy provides the framework for political and financial assistance from the EU to Tunisia. From 2014, financial assistance is provided by the European Neighbourhood Instrument (ENI), which provides funds for neighbouring countries based on mutually agreed policy objectives and priorities.
Since the 2011 Revolution, the EU's total assistance to Tunisia amounted to €3,5 billion, of which €1.2 billion in grants , €800 million in macro-financial assistance and the rest in blending facilities. More information on EU support for Tunisia is available on the site of DG NEAR
The EU and Tunisia concluded an Association Agreement in July 1995. This Agreement established a Free Trade Area under which all two-way trade in industrial products takes place free of any trade tariffs, while as regards agricultural, agro-food and fisheries products, the EU and Tunisia agreed to a progressive opening of their respective markets for selected products.
Alongside these reductions in trade tariffs, the Association Agreement also contains provisions under which the EU and Tunisia have agreed to:
rules and disciplines on the use of non-tariff based trade measures such as quotas and product standards
a general right to establish businesses and provide services in the other territory
allow for current payments and movement of capital
have common rules on competition and intellectual property
The EU and Tunisia signed a bilateral protocol in 2009 on the establishment of a dispute settlement mechanism, which entered into force in September 2011.
Tunisia in Euromed
Tunisia is one of the partners of the Euro-Mediterranean Partnership (Euromed).
Euromed is one of the key initiatives of the European Neighbourhood Policy, through which the EU offers its neighbours a privileged relationship, building upon a mutual commitment to common values (including democracy and human rights, rule of law, good governance, market economy principles and sustainable development).
Euromed is an essential component in the pursuit of greater economic integration in the Mediterranean region, including among Mediterranean partners themselves.
More information on the Euro-Mediterranean partnership
In 2004, Tunsia signed the Agadir Agreement with Jordan, Egypt, and Morocco. This committed all parties to removing all tariffs on trade between them and to harmonizing their legislation with regard to standards and customs procedures. The Agadir Agreement entered into force in July 2006 and the implementation is ensured by the Agadir Technical Unit in Amman.
More information on the Agadir Agreement
The pan-Euro-Mediterranean cumulation and the PEM Convention on rules of origin
The pan-Euro-Mediterranean cumulation system of origin was created in 2005. It brings together the EU, Tunisia and other partners in Europe and the Mediterranean to support regional integration by creating a common system of rules of origin. Rules of origin are the technical criteria which determine whether a specific product qualifies for duty free or other preferential access under a given trade agreement.
Cumulation of origin means a product coming from one partner country can be processed or added to a product of a second partner country and still be considered an "originating product" of that second partner country for the purposes of a particular trade agreement.
The pan-Euro-Mediterranean system allows for diagonal cumulation (i.e. cumulation between two or more countries) between the EU, EFTA States, Turkey, the Western Balkans, the Faroe Islands, and any countries which signed the Barcelona Declaration of 1995. The system was originally based on a network of Free Trade Agreements having identical origin protocols.
These individual origin protocols are being progressively replaced by a reference to the Regional Convention on pan-Euro-Mediterranean preferential rules of origin (PEM Convention), which was established in 2011 to provide a more unified framework for origin protocols. Tunisia acceded to the Regional Convention on 1 January 2015.
More information on Mediterranean preferential Rules of Origin
Trading with Tunisia