Website content
Switzerland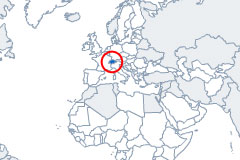 Switzerland's economic and trade relations with the EU are mainly governed through a series of bilateral agreements where Switzerland has agreed to take over certain aspects of EU legislation in exchange for accessing part of the EU's single market.
Trade picture
The EU is Switzerland's main trading partner, whereas Switzerland is the EU's fourth trading partner after the USA, China and the UK.
Swiss merchandise exports to the EU are concentrated on a few sectors, particularly chemicals/pharma and medical products, machinery, instruments and watches.
Switzerland is a very important partner of the EU for trade in services, in particular for commercial services.
Both the EU and Switzerland are among each other's top destinations for foreign investment.
EU-Switzerland: Trade in goods
Trade in goods 2018-2020, € billions

| Year | EU imports | EU exports | Balance |
| --- | --- | --- | --- |
| 2018 | 101.9 | 134.7 | 32.8 |
| 2019 | 109.9 | 146.5 | 36.7 |
| 2020 | 108.6 | 142.4 | 33.8 |
EU-Switzerland: Trade in services
Trade in services 2017-2019, € billions

| Year | EU imports | EU exports | Balance |
| --- | --- | --- | --- |
| 2017 | 66.9 | 106.5 | 39.6 |
| 2018 | 67.0 | 109.1 | 42.0 |
| 2019 | 65.2 | 113.7 | 48.4 |
EU-Switzerland: Foreign direct investment
Foreign direct investment 2019, € billions

| Year | Inward stocks | Outward stocks | Balance |
| --- | --- | --- | --- |
| 2019 | 734.6 | 969.3 | 234.7 |
Unless otherwise mentioned "EU" concerns for all indicated years the current European Union of 27 Member States.
EU and Switzerland
Doing business with the Swiss
The Swiss economy is highly integrated in the international economy, capitalising on an open trade regime for industrial products but with a protected agricultural sector.
Tariffs on Swiss manufactures are generally low, and in principle there are no quantitative restrictions, anti-dumping, countervailing or safeguard actions. There are however significant tariffs on a number of agricultural products such as meat or on certain processed agricultural products.
In a number of Swiss sectors, the market entry has long suffered from informal barriers, which can be attributed to a legacy of weak anti-cartel legislation, specific and protective technical regulations, certain investment restrictions and exclusive rights under intellectual property legislation.
Being member of the European Free Trade Association (EFTA), Swiss trade agreements are usually concluded in the EFTA framework. Switzerland has trade agreements of its own notably with Japan and China.
The cornerstone of EU-Swiss relations is the Free Trade Agreement of 1972.
As a consequence of the rejection of the EEA membership in 1992, Switzerland and the EU agreed on a package of seven sectoral agreements signed in 1999 (known in Switzerland as "Bilaterals I"). These include: free movement of persons, technical trade barriers, public procurement, agriculture and air and land transport. In addition, a scientific research agreement fully associated Switzerland into the EU's framework research programmes.
A further set of sectoral agreements was signed in 2004 (known as "Bilaterals II"), covering, inter alia, Switzerland's participation in Schengen and Dublin, and agreements on taxation of savings, processed agricultural products, statistics, combating fraud, participation in the EU Media Programme and the Environment Agency.
In 2010 an agreement was signed on Swiss participation in EU education, professional training and youth programmes.
In overall, more than 100 bilateral agreements currently exist between the EU and Switzerland.
The on-going implementation of these agreements obliges Switzerland to take over relevant EU legislation in the covered sectors.
These bilateral agreements between the EU and Switzerland are currently managed through approximately 20 joint committees.
As a consequence of its partial integration in the EU's single market, Switzerland pays a financial contribution to economic and social cohesion in the new EU Member States.
Committees and Dialogues
The EU and Switzerland meet regularly to discuss issues and best practices when applying the agreement.
Trading with Switzerland
Rules and requirements for trading with Switzerland
EU-Swiss trade-related agreements: