Website content
Russia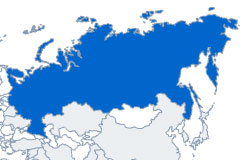 Russia is one of the European Union's main trade partners. Since 1997, the EU's political and economic relations with Russia have been based on a bilateral Partnership and Cooperation Agreement (PCA). The trade-relevant sections of the PCA aim to promote trade and investment, and to develop mutually beneficial economic relations.
Since Russia joined the WTO in 2012, EU-Russia trade relations have also been framed by multilateral WTO rules.
Since 2014, the illegal annexation of Crimea and the conflict in Eastern Ukraine have seriously affected EU-Russia relations. As a result, some of the policy dialogues and mechanisms of cooperation, including in the area of trade, have been suspended.
Trade picture
Russia is the EU's fifth largest trade partner, representing 4.8% of the EU's total trade in goods with the world in 2020.
The EU is Russia's biggest trade partner, accounting for 37.3% of the country's total trade in goods with the world in 2020. 36.5% of Russia's imports came from the EU and 37.9% of its exports went to the EU.
Russia is the origin of 26% of the EU's oil imports and 40% of the EU's gas imports*. Energy price volatility directly affects the volume of bilateral trade.
Total trade in goods between the EU and Russia in 2020 amounted to €174.3 billion. The EU's imports were worth €95.3 billion and were dominated by fuel and mining products – especially petroleum (€67.3 billion, 70.6%), agriculture and raw materials (€4.3 billion, 4.5%), chemicals (€4.1 billion, 4.3%) and iron and steel (€4.0 billion, 4.1%). The EU's exports totalled €79.0 billion. They were led by machinery and transport equipment (€35.0 billion, 44.1%), chemicals (€16.7 billion, 21.1%), and manufactured goods (€7.6 billion, 9.6%) as well as agriculture and raw materials (€6.9 billion, 8.7%).
Two-way trade in services between the EU and Russia in 2020 amounted to €27.7 billion, with EU imports of services from Russia representing €8.9 billion and exports of services to Russia accounting for €18.8 billion.
The EU is the largest investor in Russia. In 2019, the EU's outward foreign direct investment (FDI) stock in Russia amounted to €311.4 billion, Russia's FDI stock in the EU was estimated at €136 billion.
* Data from 1st semester of 2020
EU-Russia: Trade in goods
Trade in goods 2018-2020, € billions

| Year | EU imports | EU exports | Balance |
| --- | --- | --- | --- |
| 2018 | 160.9 | 82.3 | -78.6 |
| 2019 | 145.0 | 87.8 | -57.3 |
| 2020 | 95.3 | 79.0 | -16.4 |
EU-Russia: Trade in services
Trade in services 2017-2019, € billions

| Year | EU imports | EU exports | Balance |
| --- | --- | --- | --- |
| 2017 | 11.8 | 26.9 | 15.1 |
| 2018 | 12.7 | 26.6 | 13.9 |
| 2019 | 12.6 | 27.2 | 14.6 |
EU-Russia: Foreign direct investment
Foreign direct investment 2019, € billions

| Year | Inward stocks | Outward stocks | Balance |
| --- | --- | --- | --- |
| 2019 | 135.9 | 311.4 | 175.5 |
Unless otherwise mentioned "EU" concerns for all indicated years the current European Union of 27 Member States.
EU and Russia
The 1997 PCA remains the general framework for EU-Russia trade relations. Negotiations for a new EU-Russia agreement started in 2008, but were put on hold in 2010 owing to a lack of progress in the Trade and Investment Chapter. In March 2014, the European Council suspended the negotiations due to the crisis in Ukraine.
Russia's accession to the WTO in 2012 raised expectations that trade with Russia would benefit from sustained liberalisation. Instead, Russia has progressively put in place numerous measures favouring domestic products and services over foreign ones, and incentivising localisation of production in Russia by foreign companies.
This import substitution policy has been continually expanded. As a result, many EU exporters are either pushed out of the market or obliged to relocate production to Russia. Related measures often contravene WTO rules and cause many trade irritants. Some of these have reached WTO dispute settlement procedures:
The EU has filed four disputes against Russia at the WTO:
In 2014 on Russia's excessive import duties and on Russia's anti-dumping duties on light commercial vehicles – in both cases, the WTO ruling favourable to the EU was implemented by Russia;
in 2014 on Russia's embargo on EU pig meat on the basis of sanitary and phytosanitary (SPS) requirements – the authority of the compliance panel lapsed in January 2021, and;  
in 2013 on Russia's recycling fee on imported motor vehicles – the case is currently on hold.
Russia has also filed four disputes at the WTO against the EU: in 2014 on the EU's third energy package, in 2013 and 2015 on gas cost-adjustment in EU anti-dumping investigations, and in 2017 on EU anti-dumping measures on imports of certain cold-rolled flat steel products from Russia. All four disputes are ongoing.
In July 2014, in response to Russia's intervention in Ukraine, the EU adopted a set of restrictive measures against Russia targeting four economic sectors: access to finance, arms, dual-use goods, and specific technologies for oil production and exploration.
In August 2014, Russia reacted by introducing a political ban on imports of a range of EU agricultural and food products. It extended the scope of products in October 2017. More information is available here.
The Eurasian Economic Union (EAEU)
In 2010, Russia created a Customs Union with Kazakhstan and Belarus. This Customs Union became the Eurasian Economic Union (EAEU) in 2015. Armenia and Kyrgyzstan joined the EAEU  the same year. Russia represents almost 90% of the EAEU's GDP. The EAEU has legal competence in policy areas such as customs, competition, trade defence, agricultural and industrial product regulation, intellectual property rights, and foreign trade, which are relevant for trade between the EU and Russia. At the same time, semi-uniform EAEU technical regulations lack enforcement mechanisms and create additional barriers for trade.
Trading with Russia
Rules and requirements for trading with Russia: