Website content
Palestine1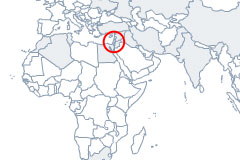 An Interim Association Agreement on Trade and Cooperation was concluded between the EU and the Palestine Liberation Organisation (PLO) on behalf of the Palestinian Authority in 1997. The agreement provides for duty-free access to EU markets for Palestinian industrial goods, and a phase-out of tariffs on EU exports to Palestine over five years. An Agreement for further liberalisation of agricultural products, processed agricultural products and fish and fishery products entered into force on 1 January 2012.
Trade picture
Due to the difficult economic situation and restrictions on movement and access, trade with the EU is very limited (Palestine was the EU's 151st trade partner in 2020).
Total trade in goods between the EU and Palestine in 2020 amounted to €244 million.
The EU's imports from Palestine are in general very low. In 2020, they were worth only €26 million and consisted of mainly agricultural products and raw materials (€22.8 million, 87.7%).
The EU's exports to Palestine amounted to €218 million. They were led by machinery and transport equipment (€78 million, 35.8%), agricultural products and raw materials (€61 million, 28.0%) and chemicals (€40 million, 18.3%), which consisted mainly of pharmaceuticals.
EU-Occupied Palestinian Territory: Trade in goods
Trade in goods 2018-2020, € billions

| Year | EU imports | EU exports | Balance |
| --- | --- | --- | --- |
| 2018 | 0.0 | 0.2 | 0.2 |
| 2019 | 0.0 | 0.3 | 0.2 |
| 2020 | 0.0 | 0.2 | 0.2 |
EU-Occupied Palestinian Territory: Trade in services
Trade in services 2017-2019, € billions

| Year | EU imports | EU exports | Balance |
| --- | --- | --- | --- |
| 2017 | 0.0 | 0.1 | 0.1 |
| 2018 | 0.0 | 0.1 | 0.1 |
| 2019 | 0.1 | 0.1 | 0.0 |
EU-Occupied Palestinian Territory: Foreign direct investment
Foreign direct investment 2019, € billions

| Year | Inward stocks | Outward stocks | Balance |
| --- | --- | --- | --- |
| 2019 | 0.0 | 0.3 | 0.3 |
Unless otherwise mentioned "EU" concerns for all indicated years the current European Union of 27 Member States.
EU and Palestine
Trading with the EU
The EU believes that greater trade with Europe can offer a potential source of economic growth and stability for Palestine. The EU works closely with Israel and other Southern Mediterranean partners in an effort to improve Palestinian access to international markets.
The European Neighbourhood Policy is part of the European Union's response to the Palestinian Authority's political and economic reform agenda.
Palestinian participation in the European Neighbourhood Policy takes place in the context of the overall political situation in the region which affects the scope of actions that can be feasibly undertaken.  There are a number of constraints and limitations resulting from the
on-going Israeli-Palestinian conflict and the continuing occupation, including settlement activity, restrictions to movement as a result of the closure policy and the separation barrier.
The European Union is the biggest donor of financial assistance to Palestine.
Palestine in Euromed
Palestine is one of the partners of the Euro-Mediterranean Partnership (Euromed).
Euromed is one of the key initiatives of the European Neighbourhood Policy, through which the EU offers its neighbours a privileged relationship, building upon a mutual commitment to common values (including democracy and human rights, rule of law, good governance, market economy principles and sustainable development).
Euromed is an essential component in the pursuit of greater economic integration in the Mediterranean region, including among Mediterranean partners themselves.
Economic relations between the Palestinian Authority and Israel are formally managed according to the Paris Protocol (1994), which allows the Palestinian Authority to establish trade relations with third countries, provided that such agreements do not deviate from Israel's import policy.
More information on the Euro-Mediterranean Partnership
The pan-Euro-Mediterranean cumulation and the PEM Convention on rules of origin
The pan-Euro-Mediterranean cumulation system of origin was created in 2005. It brings together the EU, Palestine, and other partners in Europe and the Mediterranean to support regional integration by creating a common system of rules of origin. Rules of origin are the technical criteria which determine whether a specific product qualifies for duty free or other preferential access under a given trade agreement.
Cumulation of origin means a product coming from one partner country can be processed or added to a product of a second partner country and still be considered an "originating product" of that second partner country for the purposes of a particular trade agreement.
The pan-Euro-Mediterranean system allows for diagonal cumulation (i.e. cumulation between two or more countries) between the EU, EFTA States, Turkey, the Western Balkans, the Faroe Islands, and any countries which signed the Barcelona Declaration of 1995. The system was originally based on a network of Free Trade Agreements having identical origin protocols.
These individual origin protocols are being progressively replaced by a reference to the Regional Convention on pan-Euro-Mediterranean preferential rules of origin (PEM Convention), which was established in 2011 to provide a more unified framework for origin protocols. Palestine has acceded to the PEM Convention on 1 July 2014. It has to be noted here that products originating in the Israeli settlements in Palestine (the West-Bank, Gaza Strip, East Jerusalem and the Golan Heights) are not entitled to benefit from preferential tariff treatment under the EU-Israel Association Agreement.
More information on Mediterranean preferential Rules of Origin
Committees and Dialogues
The EU and Palestine meet regularly in Committees to discuss issues and best practices when applying the agreement.
Sub-Committee on trade and internal market, industry, agriculture and fisheries and customs
6th meeting – 10 September 2018: Agenda | Report  
Trading with Palestine
For more information on the EU's technical assistance programmes to Palestine and European Neighbourhood Policy Instrument projects visit the website of the EU Technical Assistance Office in Jerusalem.
This designation shall not be construed as recognition of a State of Palestine and is without prejudice to the individual positions of EU Member States on this issue