Website content
Lebanon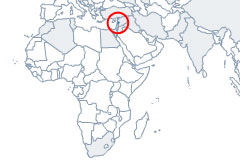 Lebanon signed an Association Agreement with the EU in June 2002, which entered into force in April 2006. As a result, Lebanese industrial as well as most agricultural products benefit from free access to the EU market.
Lebanon is in negotiations in order to accede to the WTO, an objective which the EU strongly supports.
Trade picture
Bilateral trade between the EU and Lebanon has been increasing steadily over the past years, with an average annual growth of 7,5% since 2006, with a total trade amounting to around €7,7 billion in 2017.
In 2017, EU imports from Lebanon amounted to €0,4 billion. They consist mainly of mineral products and metals (€0,1 billion, 32,3%), agricultural products (€0,09 billion, 21,8%) and chemicals (€0,03 billion, 7,5%).
EU exports to Lebanon amounted to €7,2 billion in 2017. They consist mainly of mineral products (€2,3 billion, ,31,8%), machinery and transport equipment (€1,1 billion, 15,8%) and chemicals (€0,9 billion, 13,7%).
Since 2012 the EU ranked as the first trading partner for Lebanon, covering 36,4% of Lebanese total trade in 2017.
The Lebanese economy is based primarily on the service sector. The service sector accounts for more than 68% of the country's GDP, according to the World Bank's data (2014). Construction, tourism, and financial services are the most prominent sectors among Lebanon's exports and imports of commercial services. In 2016, the EU imported €0,9 billion of services from Lebanon, and exported €1,4 billion of services to Lebanon.
Lebanon's economy is characterized by a high level of imports and by substantial trade deficits. The deficits are largely offset by foreign income earnings, including capital inflows, remittances from the Lebanese diaspora, as well as the tourism, banking and insurance sectors.
EU-Lebanon: Trade in goods
Trade in goods 2017-2019, € billions

| Year | EU imports | EU exports | Balance |
| --- | --- | --- | --- |
| 2017 | 0.4 | 6.8 | 6.4 |
| 2018 | 0.5 | 6.8 | 6.4 |
| 2019 | 0.4 | 5.8 | 5.3 |
EU-Lebanon: Trade in services
Trade in services 2016-2018, € billions

| Year | EU imports | EU exports | Balance |
| --- | --- | --- | --- |
| 2016 | 0.7 | 1.2 | 0.5 |
| 2017 | 1.1 | 1.3 | 0.2 |
| 2018 | 1.0 | 1.1 | 0.2 |
EU-Lebanon: Foreign direct investment
Foreign direct investment 2018, € billions

| Year | Inward stocks | Outward stocks | Balance |
| --- | --- | --- | --- |
| 2018 | 4.8 | 2.3 | -2.6 |
Unless otherwise mentioned "EU" concerns for all indicated years the current European Union of 27 Member States.
EU and Lebanon
The EU-Lebanon Association agreement progressively liberalised trade in goods between the EU and Lebanon. Its gradual implementation was foreseen between 2008 and 2014 and Lebanese industrial as well as most agricultural products benefit from free access to the EU market, with a view to creating a bilateral Free Trade Area
In November 2010, the EU and Lebanon signed a protocol establishing a dispute settlement mechanism applicable to disputes under the trade provisions of the Association Agreement.
Due to its Free Trade Agreement with the EU Lebanon ceased to benefit from preferential access to the EU market under the Generalised System of Preferences (GSP) scheme from January 2014 (for more details see the EU's new GSP scheme)
Lebanon in Euromed
Euromed is one of the key initiatives of the European Neighbourhood Policy, through which the EU offers its neighbours a privileged relationship, building upon a mutual commitment to common values (including democracy and human rights, rule of law, good governance, market economy principles and sustainable development).
Euromed is an essential component in the pursuit of greater economic integration in the Mediterranean region, including among Mediterranean partners themselves.
More information on the Euro-Mediterranean partnership
The pan-Euro-Mediterranean cumulation and the PEM Convention on rules of origin
The pan-Euro-Mediterranean cumulation system of origin was created in 2005. It brings together the EU, Lebanon, and other partners in Europe and the Mediterranean to support regional integration by creating a common system of rules of origin. Rules of origin are the technical criteria which determine whether a specific product qualifies for duty free or other preferential access under a given trade agreement.
Cumulation of origin means a product coming from one partner country can be processed or added to a product of a second partner country and still be considered an "originating product" of that second partner country for the purposes of a particular trade agreement.
The pan-Euro-Mediterranean system allows for diagonal cumulation (i.e. cumulation between two or more countries) between the EU, EFTA States, Turkey, the Western Balkans, the Faroe Islands, and any countries which signed the Barcelona Declaration of 1995. The system was originally based on a network of Free Trade Agreements having identical origin protocols.
These individual origin protocols are being progressively replaced by a reference to the Regional Convention on pan-Euro-Mediterranean preferential rules of origin (PEM Convention), which was established in 2011 to provide a more unified framework for origin protocols. Lebanon signed the Regional Convention on, 22 October 2014, the internal ratification process is ongoing.
More information on Mediterranean preferential Rules of Origin
Trading with Lebanon