Website content
Egypt 1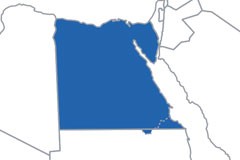 The EU-Egypt Association Agreement is in force since 2004. It creates a free-trade area between the EU and Egypt by removing tariffs on industrial products and making agricultural products easier to trade.
Another agreement on agricultural, processed agricultural and fisheries products entered into force on 1 June 2010.
The EU and Egypt began talks about a Deep and Comprehensive Free Trade Agreement in June 2013. Negotiations on trade in services are currently on hold.
Trade picture
The Association Agreement improved trade conditions between the EU and Egypt. EU-Egypt trade has more than doubled from €11.8 billion in 2004 to €27.9 billion in 2017.
The EU is both Egypt's biggest import and export partner, covering 29.7% of Egypt's trade volume in 2017.
The EU's main imports of goods from Egypt in 2017 were fuel and mining products (€3.2 billion), chemicals (€1.3 billion) and textiles and clothing (€8.6 billion).
The EU's main exports to Egypt are machinery and transport equipment (€6.9 billion), chemicals (€3.1 billion), fuels and mining products (€2.6 billion) and agricultural products (€1.3 billion).
The EU's main service exports to Egypt are business services, while EU imports from Egypt consist mainly of travel services and transport.
In 2016 the EU exported €4.2 billion of services to Egypt, and imported €4.4 billion services from Egypt.
EU-Egypt: Trade in goods
Trade in goods 2017-2019, € billions

| Year | EU imports | EU exports | Balance |
| --- | --- | --- | --- |
| 2017 | 7.4 | 18.4 | 11.0 |
| 2018 | 7.6 | 18.0 | 10.4 |
| 2019 | 8.3 | 19.1 | 10.8 |
EU-Egypt: Trade in services
Trade in services 2016-2018, € billions

| Year | EU imports | EU exports | Balance |
| --- | --- | --- | --- |
| 2016 | 4.2 | 3.5 | -0.7 |
| 2017 | 5.2 | 3.4 | -1.8 |
| 2018 | 6.2 | 3.6 | -2.6 |
EU-Egypt: Foreign direct investment
Foreign direct investment 2018, € billions

| Year | Inward stocks | Outward stocks | Balance |
| --- | --- | --- | --- |
| 2018 | 1.1 | 38.2 | 37.1 |
Unless otherwise mentioned "EU" concerns for all indicated years the current European Union of 27 Member States.
EU and Egypt
Growing trade
In June 2013 the EU and Egypt began discussing how to deepen their trade and investment relations through a Deep and Comprehensive Free Trade Agreement (DCFTA).
A future DCFTA would aim to improve market access and the investment climate. It would also support Egyptian economic reforms.
It would extend beyond the Association Agreement to include trade in services, government procurement, competition, intellectual property rights, and investment protection.
The EU commissioned a Sustainability Impact Assessment (SIA) for a possible DCFTA with Egypt in 2014.
From January 2014, due to its Association Agreement with the EU, Egypt stopped benefitting from preferential access to the EU market under the Generalised Scheme of Preferences (GSP).
Financial support
The European Neighbourhood Policy provides political and financial assistance to Egypt.
In November 2010, the EU and Egypt signed a protocol creating a dispute settlement mechanism that applies to the trade parts of the association agreement. Egypt has not yet ratified the protocol.
As a response to the events across the Arab world in 2011, the EU has identified ways to develop and deepen our trade and investment relations with Southern Mediterranean partners:
Egypt in Euromed
Egypt is one of the partners of the Euro-Mediterranean Partnership (Euromed).
Euromed is an initiative of the European Neighbourhood Policy whereby the EU offers its neighbours a privileged relationship by building upon a commitment to common values (including democracy and human rights, rule of law, good governance, market economy principles and sustainable development).
In 2004, Egypt signed the Agadir Agreement with Jordan, Morocco, and Tunisia. This agreement removes all trade tariffs between them and harmonises their rules on product standards and customs.
The pan-Euro-Mediterranean cumulation and the PEM Convention on rules of origin
The pan-Euro-Mediterranean cumulation system of origin brings together the EU, Egypt, and other Mediterranean countries to support integration to create a common system of rules of origin.
The system was originally based on a network of free trade agreements having individual origin protocols. Individual origin protocols are being replaced by a reference to the regional convention on pan-Euro-Mediterranean preferential rules of origin (PEM Convention), which was established in 2011 to provide a more unified framework for origin protocols.
Egypt joined the regional convention in October 2013.
More information on Mediterranean preferential Rules of Origin
Committees and Dialogues
The EU and Egypt meet regularly to discuss issues and best practices when applying the agreement. The committees meet regularly.
Sub-committee on Industry, trade services and investment
June 17th 2019: report
Trading with Egypt
The designations employed and the presentation of material on this map do not imply the expression of any opinion whatsoever on the part of the European Union concerning the legal status of any country, territory, city or area or of its authorities, or concerning the delimitation of its frontiers or boundaries.