Website content
Algeria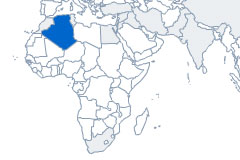 The EU-Algeria Association Agreement was signed in April 2002 and entered into force in September 2005. This Agreement sets out a framework for the EU-Algeria relationship in all areas including trade.
The EU and Algeria adopted on 13 March 2017 new Partnership Priorities in the framework of the renewed European Neighbourhood Policy. Together with the joint assessment of the implementation of the Association Agreement, also adopted in March 2017, they constitute the political framework that guides the dialogue of the EU and its Member States with Algeria up to 2020. The EU and Algeria entertain also a high-level dialogue on energy and security sectors as well as an informal dialogue on migration.
The Partnership Priorities in the context of EU-Algeria relations up to 2020 focus on a variety of areas, including trade and access to the European single market, energy, the environment and sustainable development.
Algeria is in the process of accession to the WTO , with support from the European Union. Algeria's Working Party was established on 17 June 1987. The Working Party met for the twelfth time in March 2014.
Regional instability continues to be a major concern for both the Algerian authorities and for investors and security measures along the border with Libya have been stepped up. Trade integration is proceeding one step at a time and negotiations to join the WTOis a very slow process. In order to boost the economy, the government is seeking to further develop its hydrocarbon resources and has also explicitly embraced private sector development by opening research centers and launching major transport and housing projects. According to the IMF and World Bank estimates, the Government economic plan of diversification, if linked to the creation of favorable conditions for the private sector and necessary adjustments to the education and training system, would boost economic growth in the medium-term substantially, balancing the short-term costs of transition.

See how the EU-Algeria trade agreement benefits companies and communities across the EU
Trade picture
The European Union is Algeria's largest trading partner and absorbs the major part of Algerian international trade (50.3%). Total trade between the EU and Algeria amounted to €35.2 billion in 2016. Algeria is the EU's 20th largest partner for imports and 24th largest partner for exports.
EU-Algeria trade has decreased by 13.3% between 2015 and 2016, in part due to lower oil prices. Between 2016 and 2017 EU-Algeria trade increased by 1.3%.
Fuel and mining products made up 95.7% of EU imports from Algeria in 2017. Chemicals represented the second most important exported product, worth 2.9% of Algeria's exports to the EU.
The EU's main exports to Algeria are machinery (22.2%), transport equipment (13.4%), agricultural products (12.8%), chemicals (12.8%) and iron and steel (10.2%).
EU-Algeria: Trade in goods
Trade in goods 2017-2019, € billions

| Year | EU imports | EU exports | Balance |
| --- | --- | --- | --- |
| 2017 | 17.0 | 18.5 | 1.5 |
| 2018 | 18.4 | 18.5 | 0.1 |
| 2019 | 16.3 | 16.9 | 0.6 |
EU-Algeria: Trade in services
Trade in services 2016-2018, € billions

| Year | EU imports | EU exports | Balance |
| --- | --- | --- | --- |
| 2016 | 1.4 | 3.6 | 2.2 |
| 2017 | 1.4 | 3.0 | 1.6 |
| 2018 | 1.3 | 2.7 | 1.3 |
EU-Algeria: Foreign direct investment
Foreign direct investment 2018, € billions

| Year | Inward stocks | Outward stocks | Balance |
| --- | --- | --- | --- |
| 2018 | 1.3 | 14.4 | 13.1 |
Unless otherwise mentioned "EU" concerns for all indicated years the current European Union of 27 Member States.
EU and Algeria
Algeria has a Free Trade Agreement with the EU which already grants preferential treatment to its exports to the EU; therefore, according to the Regulation on Generalized Scheme of Preferences (GSP), Algeria has stopped benefiting from GSP treatment from January 2014.
Bilateral trade between the two partners is primarily based on Algerian exports of oil and gas products. Algeria is the EU's third largest supplier of natural gas, after Russia and Norway.
Acute awareness of global warming
The forthcoming Comprehensive Strategy with Africa, and the 2020 summit between the African Union and the EU, should make climate and issues key strands in relations between the two continents. In particular, the Africa-Europe Alliance for sustainable investment and jobs will seek to unlock Africa's potential to make rapid progress towards a green and circular economy including sustainable energy and food systems and smart cities. The EU will strengthen its engagement with Africa for the wider deployment and trade of sustainable and clean energy. Renewable energy and energy efficiency, for example for clean cooking, are key to closing the energy access gap in Africa while delivering the required reduction in CO2. The EU will launch a "NaturAfrica" initiative to tackle biodiversity loss by creating a network of protected areas to protect wildlife and offer opportunities in green sectors for local populations.
Furthermore, the new European Green Deal will make consistent use of all policy levers: regulation and standardisation, investment and innovation, national reforms, dialogue with social partners and international cooperation, which will have a positive impact on all forthcoming negotiations with EU's trade partners.
More information on the European Green Deal
Algeria in Euromed
Algeria is one of the partners of the Euro-Mediterranean Partnership (Euromed).
Euromed is one of the initiatives of the European Neighbourhood Policy, through which the EU offers its neighbours a privileged relationship, building upon a mutual commitment to common values (including democracy and human rights, rule of law, good governance, market economy principles and sustainable development). These objectives are in the EU cooperation programme for Algeria 2014-2017.
More information on the Euro-Mediterranean partnership
A major African economy
The top exports of Algeria are Petroleum Gas, Crude Petroleum, Refined Petroleum, Coal Tar Oil and Ammonia, using the 1992 revision of the HS (Harmonized System) classification. Its top imports are Cars, Wheat, Refined Petroleum, Concentrated Milk and Packaged Medicaments. The top export destinations of Algeria are Italy, Spain, France, the United States and Turkey. The top import origins are China, France, Italy, Spain and Germany. Algeria is classified as an upper-middle income country by the World Bank. With an overall GDP of around USD 170 billion, the country ranked 53rd among world economies in 2016 and 2017, dropping four places compared to 2015 (49th). It is the fourth largest economy on the African continent after Nigeria, which is in 30th place, South Africa in 32nd place and Egypt in 44th place. The recovery in oil prices in 2017 and early 2018 saw per capita GDP rise again. Because of its abundance of oil reserves, and of gas in particular, the country's economic model is largely based on its hydrocarbon exports, which bring in sizeable revenues and allow it to rely on public spending and support certain sectors (basic goods, education, housing and health).
The pan-Euro-Mediterranean cumulation and the PEM Convention on rules of origin
The pan-Euro-Mediterranean cumulation system of origin brings together the EU, Algeria, and other Mediterranean countries to create a common system of rules of origin.
The system was originally based on a network of free trade agreements having individual origin protocols. These individual origin protocols are being replaced by a reference to the Regional Convention on pan-Euro-Mediterranean preferential rules of origin (PEM Convention), which was established in 2011 to provide a more unified framework for origin protocols. Algeria joined the Regional Convention in March 2017.
More information on Mediterranean preferential Rules of Origin
Committees and Dialogue
The EU and Algeria meet regularly in Committees to discuss issues and best practices when applying the agreement. 
Sub-Committee on trade, industry and customs
6th meeting – 18 October 2018: Agenda | Report
Trading with Algeria