Intergenerational solidarity: key to responding to demographic ageing
The first European Day of Solidarity between Generations - an initiative of civil society organisations - took place on 29 April 2009.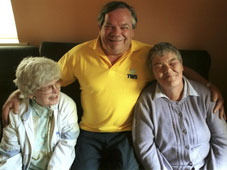 For this occasion, the European Commission carried out a Flash Eurobarometer survey on the views of EU citizens on intergenerational solidarity.
"Over the coming years, the first baby-boomers will be starting to retire. This marks the beginning of a fundamental shift in the balance between retirees and people of working age. We have to make sure that ageing will not undermine solidarity between generations", said Vladimír Špidla, Commissioner for Employment, Social Affairs and Equal Opportunities. He added: "Demographic ageing is not something to be afraid of if we recognise the enormous contribution that ageing baby-boomers can make to our societies. I welcome the first European Day of Solidarity between Generations as an excellent opportunity to raise awareness of what older people have to offer and to promote better relations and solidarity between the generations."
The Commission adopted a policy communication on dealing with the impact of an ageing population in the EU.